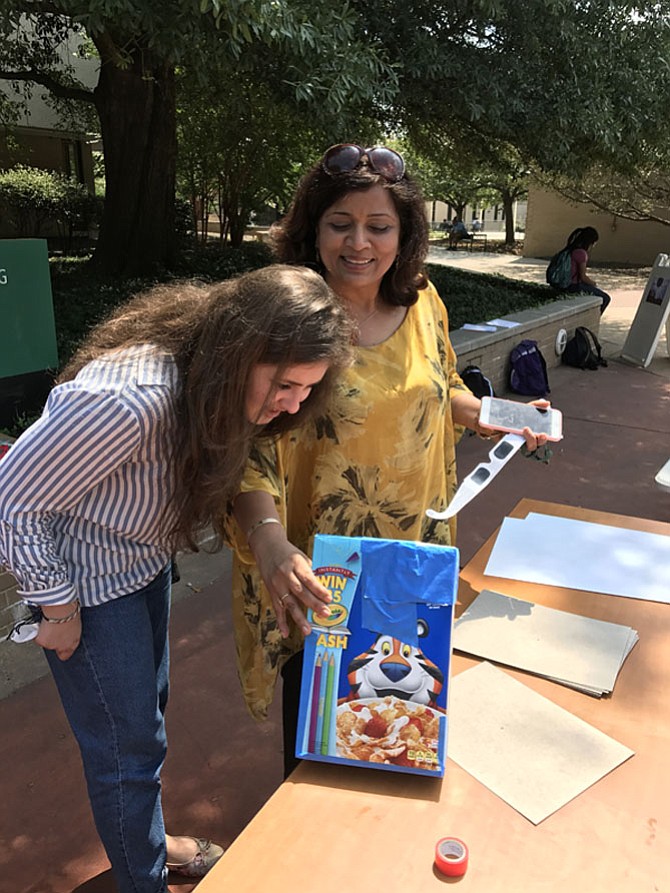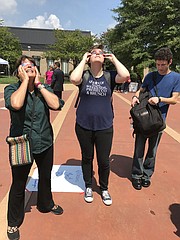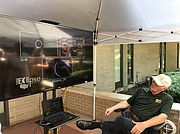 "The whole point [of the event] is to get them excited about this huge scientific phenomenon that is happening today." — Ritu Kansal
Several minutes before Solar Eclipse 2017 reached its peak, a band of storm clouds floated over the sun, and a collective groan of disappointment swelled among the crowd of people who'd gathered at Northern Virginia Community College's (NOVA) Annandale campus to watch the eclipse during the school's NOVA Eclipse Mania 2017 event.
"So disappointing," said Bethesda resident Jill Caporale, one of the event organizers and an associate professor of biology and natural sciences at NOVA.
As thunder rolled and the sky turned grey, the crowd moved to a large screen television that had been set up under a tent to watch a NASA's live feed of the eclipse
"The eclipse is still happening, but we can't see it here," said Caporale, as she began taking down the educational eclipse displays that had lined a courtyard on campus.
"This is so disappointing," said Julie Fitzpatrick who lives in Arlington. "I've been looking forward to this for weeks."
Earlier in the afternoon, eclipse enthusiasts young, old and in-between, gathered in the courtyard for activities instruction on the proper use of eclipse glasses, a telescope presentation, a live feed from NASA, a demonstration of pinhole viewers and an art demonstration.
"I took astronomy last year in high school, so I knew that this was going to be a special eclipse," said NOVA freshman Gucci Marwah of Fairfax. "I've seen an eclipse in India, but never in the U.S."
Faculty scientists from the school's math, science, and engineering division were present to answer questions and offer safety suggestions.
"The students are all so enthusiastic," said Vienna resident Ritu Kansal, a chemistry professor at NOVA. "So many students coming up and looking at the NASA posters. They want to learn. The whole point [of the event] is to get them excited about this huge scientific phenomenon that is happening today."
"This was an effort by the whole school, not just the science division, but also history and art," said Caporale as she pointed to colored chalk drawings of the solar system that were created jointly by the science and art divisions.
There were also outdoor meditation sessions led by NOVA's Meditation Club. "It's a symbolic of getting over the hump, the dark passing over the light and a fresh start," said Nicolette LePalme, club president and resident of Alexandria.