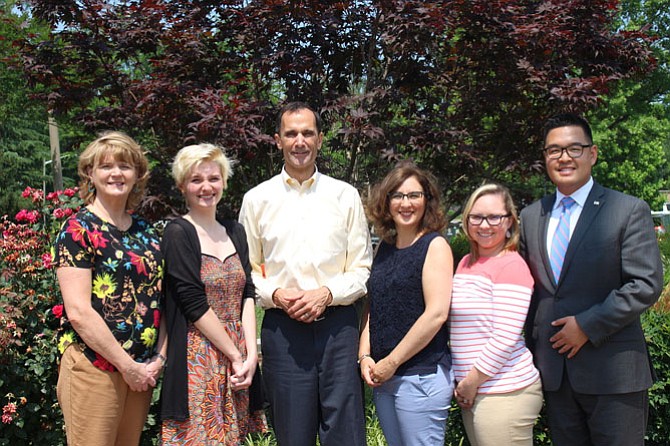 Welcome to the best place to live, work and play in Fairfax County! I look forward to meeting you at my office or in our community. I am confident that you will agree that our scenic beauty, diversity, history, hospitality and civic activism along with our great schools and vast opportunities for cultural enrichment are unique in the world. Mark your calendar for two community events – the second annual Tour de Mount Vernon on Nov. 4 and the 31st annual Mount Vernon Town Meeting on Feb. 3, 2018.
In Mount Vernon, we are fortunate to have many wonderful parks, recreational opportunities, historical sites and community events to enjoy. So start your day with a round of golf, horseback riding, kayaking, tennis, or a walk in a tree-lined park or neighborhood; enjoy brunch at our more than one hundred local eateries; boat, bike, or walk to one of our many heritage sites and then relax at a craft brewery; to round out your evening, you can see a local play, musical or concert. Here are some of my favorite places to visit:
George Washington's Mount Vernon Estate and Gardens: One of the nation's most visited historic sites, with lush gardens and grounds, intriguing museum galleries, immersive programs, and first-rate dining and shopping options. Hop on a bike and ride on the nearly 18 miles long and fully paved Mount Vernon Trail that follows the Potomac River's Virginia shoreline. You can also enjoy the nearby Distillery and Gristmill. (http://www.mountvernon.org)

Gunston Hall: The home built for George Mason IV, the author of the Bill of Rights, located on Mason Neck near a state park, regional park, and federally protected land. The mansion and museum provide history and context to colonial Virginia and revolutionary America. (http://www.gunstonhall.org)

Woodlawn & Frank Lloyd Wright's Pope-Leighey House: Operated on the same historic grounds by the National Trust for Historic Preservation, visitors are encouraged to explore the contrasting architectural and historic backgrounds of these two unique homes. (http://www.woodlawnpopeleighey.org/home/) The site is also home to the Arcadia Center for Sustainable Food and Agriculture offering demonstration gardens used to teach people how to farm and enjoy agriculture. (www.Arcadiafood.org)

Workhouse Arts Center: In addition to over 150 of the region's finest artist workspaces, art classes, exhibits by national and international artists, exciting comedy or musical performances, this nationally recognized former correctional facility explains the key role the area played in turning the tide to secure a woman's right to vote. (www.workhousearts.org)

And many, many more: Potomac River marina; county recreation centers with indoor swimming, a fitness center and ice rink; off-leash dog parks; farmers markets; "Liberty", a historical, adaptively renovated residential community; a "Top Ten" public golf course; and the 2019 opening of The National Museum of the United States Army which will tell the stories of the 30 million men and women who have served in the army since 1775.
We are a community of the past, present, and future where you can grow, play, and work. We host hundreds of small and large growing businesses, many recently renovated schools, and the Fort Belvoir Army Base with more than double the employees of the Pentagon. Taking care of your health can also be accomplished locally at our two major hospital centers — Inova Mount Vernon and the Fort Belvoir Community Hospital.
Please stop by my office located at 2511 Parkers Lane, Monday-Friday 8:30 a.m.-5 p.m. and Thursday evenings until 7:30 p.m. The second Saturday of each month, I have additional hours at the Lorton Library from 9-11:30 a.m. and at my office from 12:30-3 p.m. You can contact us at 703-780-7518 or MtVernon@FairfaxCounty.gov. Visit our website www.FairfaxCounty.gov/mountvernon to sign-up for our regular Mount Vernon Advisor newsletter for the latest of what's happening in the community.
Again, I welcome you to the Mount Vernon community – a destination – and sincerely hope you enjoy living in the finest district in Fairfax County. It is an honor and privilege to serve you.