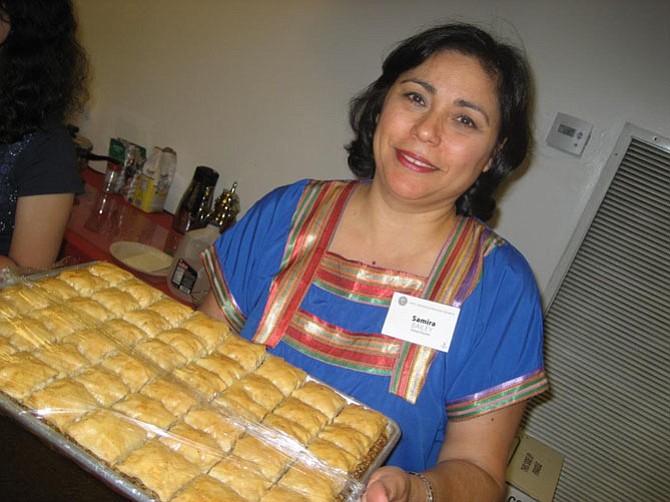 Labor Day weekend brings summer to an end, and is a major time to enjoy some relaxation and fun before fall's chill. And for locals—especially those who love food—the major event of the weekend is the Middle Eastern Food Festival at McLean's Holy Transfiguration Melkite Greek Catholic Church. Often rated as the Number 1 family event, this two-day festival is now celebrating its 23rd year of bringing various cultures together for fun and food.
Besides getting a peek at the inspiring church artwork, a chance to hear the Byzantine liturgy and share the parish's community spirit, people also come to eat, because the parish offers food, food, food. What's on the menu, folks may ask, and the answer is lengthy: falafel, kabobs, spinach-and-meat pies, roast lamb, kibbeh, hummus, loobyeh, mujaddara (lentils with rice), and a stunning array of pastries, about 12, 000 pieces in all.
For many foodies, sweets rule, and the displayed choices include 40 different cookies and types of baklava. "In the Middle East," said Samira Bailey, the parishioner in charge of overseeing the in-house baking, "we flavor our pastries orange blossom water and rose water, but most Americans prefer cinnamon or vanilla." She added that many of the festival pastries resemble what the bakers learned growing up, but with some tweaks with what they have learned to like in the United States.
So overseeing the baking and packaging of pastries for this festival is something of a challenge, but one that Bailey meets with great aplomb. "I learned about traditional baking," said Lebanese native Bailey, "by watching the older ladies as I grew up. These were my mother and my grandmother who were making sweets for Easter, Theophany, Christmas, and other festivals." She then started baking for the festival because only the older generations were working in the kitchen. And as she has found out, assembling all the goodies takes weeks of prep time.
Bailey noted that her crew of 20-odd ladies, and sometimes, some gents, start towards the end of May, work twice a week in June, for two Saturdays in July, and in August several full days of baking, assembling, freezing, and packaging the sweets. "We have it down to a science," she said, noting that one of the ladies, Mary Baroody, must clarify about 180 pounds of butter. "Costco has the best deal on butter," she said, "and especially the nuts. We always look for the best ingredients we can find."
For festival goers, locating the sweets tables is simple, as they are staged in the parish hall with lots of volunteers helping visitors select, pay for, and pack up their pick. "Almost all sells out," said Bailey. "But we always remember to keep some for the Little Sisters of the Poor. Anything else left over is saved for upcoming parish functions." And as the group works to raise donations for the parish and for charities, Bailey noted that one of the best results is this: "We are like a family," she said. "We build friendships."
Where & When
Holy Transfiguration Melkite Greek Catholic Church is located at 8501 Lewinsville Rd., McLean. 703-734-9566. The Middle Eastern Food Festival is held Saturday, Sept. 3, 11 a.m. – 11 p.m.;
Sunday, Sept. 4, Noon – 6 p.m. Admission and parking are free.