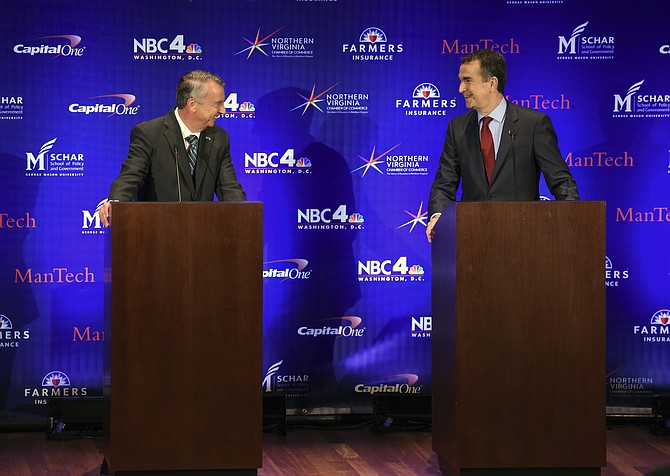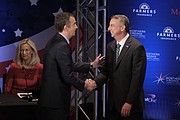 McLean — The campaign for governor is a bit like a Rorschach test as the candidates close in on the final stretch toward Election Day. Democrat Ralph Northam and Republican Ed Gillespie are presenting a series of inkblots to voters about everything from the health of the economy to the value of Confederate statues. How voters feel about President Donald Trump and the Affordable Care Act may end up playing more of a role deciding the fate of the election than all the carefully crafted policy proposals and press releases.
"The critiques that one is leveling at the other that aren't policy oriented are designed to undermine the opponent's base but also energize their own base," said Quentin Kidd, professor at Christopher Newport University. "But while they do have to play politics and critique each other, they've got to talk about policy, and they've got to talk about the things they would do to solve problems and make life better for Virginians."
Polls show Northam holding a steady but slight lead since March, the last time Gillespie was leading in a statewide poll of voters. One of the most recent polls was conducted by the University of Mary Washington earlier this month, which shows Northam edging out a 5 percent win over his rival — a lead that's so slight it was within the margin of error. Polls have Northam crushing Gillespie in vote-rich Northern Virginia. But they also show Gillespie leading among independent voters and holding strong in conservative parts of the state.
"You see a lot of undecided voters, which means both campaigns have a lot of work to do between now and November," said Stephen Farnsworth, professor at the University of Mary Washington. "When you take out the portions of the electorate who will reflexively vote for a Democrat or a Republican, you are left with people who are going to be motivated by community-level issues."
THE DEBATE in Northern Virginia this week illustrated the fickle nature of Rorschach politics in the age of Trump as both candidates tried to shape the narrative. Sponsored by the Northern Virginia Chamber of Commerce and moderated by Chuck Todd of NBC's "Meet the Press," the televised debate was held at Capital One headquarters in McLean on Sept. 19. Panelists included Julie Carey of NBC4, Aaron Gilchrist of NBC4 and Mark Rozell of George Mason University. Several times during the debate, Gillespie rattled off a series of data points about sluggish job growth and stories of people leaving Virginia to move to other states. His solution to the perceived weakness is a 10 percent reduction in the individual income tax rate, a proposal that would cost more than $1 billion over the next five years.
"We have tended to put a lot of focus on what I call whale hunting — trying to get a Fortune 100 company to move lock stock and barrel into Virginia," said Gillespie after the debate. "And I'm all for it. We need to make a run at Amazon, and we're going to. But that can't be the singular focus of our economic development agenda and vision."
Northam criticized Gillespie's plan as a tax cut for the wealthy, a proposal that would blow a billion-dollar size hole in the budget and crowd out spending for roads and schools. Instead, he said he would like to continue on the path of current Gov. Terry McAuliffe's "New Virginia Economy," emphasizing lowering the unemployment rate and a series of corporations that have moved their headquarters to the commonwealth. During one point in the debate, Northam turned to Gillespie and said all his trash-talking about the Virginia economy could prevent Amazon from setting up shop in Virginia.
"Right now, Ed, we are having negotiations with Amazon — 50,000 jobs," Northam said to Gillespie. "Amazon doesn't want to hear from people like you, especially if you want to be the next governor, that we are doing poorly in Virginia."
"You see a lot of undecided voters, which means both campaigns have a lot of work to do between now and November."
— Stephen Farnsworth, professor at the University of Mary Washington
CONFEDERATE STATUES are creating an emotional flashpoint in the campaign, a disagreement between the candidates highlighted by the violent clashes that erupted in Charlottesville after white supremacists marched across the campus of the University of Virginia chanting Nazi slogans and holding tiki torches. Gillespie said the statues should stay in place with some added context, and he called for adding a statue of Virginia's first black governor to the state Capitol. Northam said local communities should be able to determine what they want to do with their statues, although he added he wants to see them in a museum.
"I think what is important is to talk about some of the statues that aren't built of bronze, the inequities that we still have in our society," said Northam during the debate. "Inequities in access to health care. Inequities in access to voting rights. Inequities that we have in education."
Views of the Affordable Care Act are also expected to play an important dividing line in the election. Northam has been consistent in his support for expanding Medicaid, criticizing Republicans for undermining a system that has expanded health insurance to millions of Americans who previously had no coverage. Gillespie has been consistently critical of the landmark achievement of former President Barack Obama, although he was noncommittal when asked about his view of the reform proposal currently working its way through Congress.
"I'm not endorsing or opposing any specific legislation that is being talked about right now. I haven't had a chance to read it," said Gillespie after the debate, adding that Virginia should not be punished for declining to expand Medicaid. "But as a principle I've been consistent in this regard, and that is where I am today."
PERHAPS NOTHING looms as large over this election as Donald Trump. The president has become a lightning rod of opposition and a rallying cry for people who feel marginalized. Virginia was the only Southern state Trump lost, and polls show that he remains unpopular here. Gillespie has been trying to distance himself from the president by opposing some of his budget proposals and declining to answer questions about whether he'll ask Trump to campaign for him in Virginia.
"Probably the biggest thing being hung around Ed's neck is the Trump administration," said Republican strategist Dan Scandling. "But depending where you are in the state determines how much of a weight that is. If you're downstate, that's not a problem. If you're up here in Northern Virginia, it's a potential problem."
Democrat Hillary Clinton won Virginia with 50 percent of the vote, with Trump at 44 percent. Many of those presidential year voters might not show up in an odd year-election, when the electorate tends to be older and whiter. For Democrats, the goal heading into Election Day is to run up the numbers in Northern Virginia and overwhelm Republicans in parts of the state that still support Trump. For Republicans, the challenge is find some kind of way of embracing Trump voters without alienating independents who might feel conflicted about the president.
"I think what's really going to drive the election is President Trump," said Democratic strategist Ben Tribbett. "A lot of voters are going to vote either for or against Ed Gillespie based on how they feel about Donald Trump."