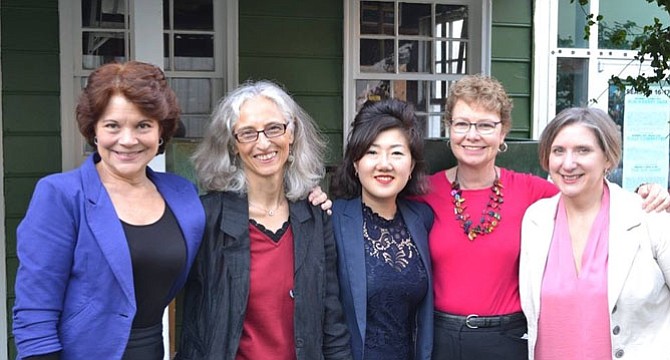 Alexandria — Four Alexandria playwrights who are part of the Pipeline Playwrights will be doing readings of their new short plays at The Kennedy Center's 2017 Page-to-Stage New Play Festival scheduled for Monday, Sept. 4, at 3:30 p.m. The free event will be held in the North Tier Opera Lounge at The Kennedy Center.
"Each of the plays is different. They range in tone from comic to serious, light-hearted to dark. The plays will feature a company of eight fine actors, all veterans of the local theater scene, in overlapping roles: Hartley Erickson, Allison Frisch, Deborah Hensley, Carolyn Kashner, Peter Pereyra, Faith Potts, Lonny Smith, and Kanysha Williams," said Patricia Connelly of the Pipeline Playwrights.
Three plays will be directed by Jordan Friend, artistic director of 4615 Theatre in the District, and Playwright Ann Timmons will be directing the fourth play, her own "Hank & Gracelyn Go to New York."
The four plays that will be read at the festival include the following:
"Hank & Gracelyn Go to New York" by Ann Timmons — a darkly comic, updated version of the 'Hansel and Gretel' story. To escape poverty at home, Hank and Gracelyn catch a bus to New York. When they arrive at Port Authority bus terminal, they find themselves unexpectedly without resources. The plot thickens, as they fall prey to the mysterious Miss Pamela, who has her own plans for them.

"I Love Desilu" by Nicole Burton is a love letter to Lucille Ball. Almost everyone knows Lucy was a comedic star, but who's aware that she and her husband and co-star, Desi Arnaz, were successful entrepreneurs, recasting the artistic and technical aspects of TV production, and that Lucy became the first woman head of a major studio?

"Final Assignment" by Jean Koppen takes place in the future, when androids not only look like humans but can also be programmed with specific memories. In the play, Patricia is visited by her daughter Maggie, a daughter she never had. Maggie tries to learn from Patricia how she can be fully human.

"The Holiest of Sacraments" by Patricia Connelly — 7-year-old Molly is the last in line to make her first confession. She must get through this in order to make her first Holy Communion the next day. It's getting very late and, after a day of first confessions, Father O'Hearn has little patience left. Molly has been trained well, but she has trouble confessing. What sin has Molly committed? The play is a look at the Catholic sacrament of confession through the eyes of a 7-year-old.
Connelly said the annual Page-to-Stage festival is a tremendous opportunity for local theater companies to present their new work at The Kennedy Center.
"For Pipeline Playwrights, it is an opportunity to introduce ourselves and our work to a broader audience of theatergoers, people who may not have seen our work before, people who are there to sample the variety of work being developed locally," she said. "It is the one day a year when we can present our work with other local theaters and see how our work fits within the larger theater community."
She continued: "We have all participated individually in Page-to-Stage in the past, but no matter how many times we've been part of it, we are always excited to be included in this annual theater event. The Kennedy Center staff works hard to present more than a hundred readings and performances each year; they essentially lay out the red carpet for the local theater community."
"Is it a big deal? Yes! Indeed, it is a great honor to be invited to participate and we look forward to seeing old friends and meeting new ones on Sept. 4," she added.