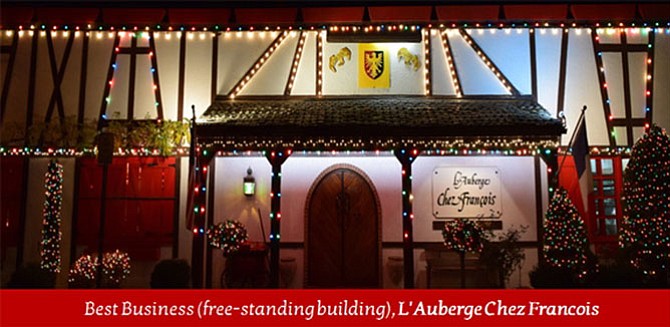 Businesses and residences around Great Falls are untangling the string lights and digging out the tinsel for the sixth annual Holiday Decorating Contest. Beginning on Nov. 24th, with the deadline for submissions on Dec. 22, when the judges award $200 to their choice for Best Business (stand alone building), Best Storefront and Best Neighbor(hood). Past judges and participants share some brief reflections on previous contests and how the community gets involved.
The contest was inspired by Katie Simmons Hickey's (of Caliber Home Loans) love of decorating: She puts up 11 trees in her home every year, even winning one of the contest awards last year. Born and raised in Great Falls, Hickey moved back after college and joined the board of Celebrate Great Falls Foundation, where she shared her idea for a friendly competition. Some of her favorites over the years are simple white lights outlining homes and trees, as well as L'Auberge Chez Francois' cheery and uplifting displays, and GF Auto Services' snowman waterskiing behind a car. Hickey hopes that someday, all of Great Falls will join in, bringing the "spirit of the holidays to our small town."
Michelle Miller, resident and President of the Friends of the Great Falls Library, has been involved since 2013. Her holiday book tree won in 2013 and was nominated again in 2014; she may start planning now for next year as it "takes so many books." Miller loves the lights on Dante's Restaurant and the "Diamond Tree" at Adeler Jewelers, and that the town becomes "so festive, bright and magical for the holiday season."
Another community leader and a 20-year resident, Julie Casso of The Arts of Great Falls, was asked to judge the contest last year. The executive director likes "any type of lights and lots of them" like at L'Auberge Chez Francois, or those that "appropriately looked like diamonds" at Adeler Jewelers. Casso sees the contest as another way we're [brought together, enjoying the lights like we did as children].
Erin Lobato, Director of the Celebrate Great Falls Foundation, adds: "Everything is so dark, cold and grey this time of year...adding a little sparkle…puts everyone in a good mood, no matter your religion." She names the decorations at Chez Francois, the firehouse, and GF Auto Service as some of her favorites. Lobato feels blessed to be part of such a "dynamic, friendly community."
Stefan Suib, longtime resident and owner of Great Falls Auto Service, and his wife Sandy have decorated the lot for years, winning once and tying with the firehouse a second time. He enjoys the whole process of decorating and that people love when he decorates his cars. Suib closes with: "Anything that helps to build community spirit, with neighbors meeting other neighbors, is a good thing."
There is still time to join the contest, visit www.celebrategreatfalls.org/holiday-decorating-contest/ for details.