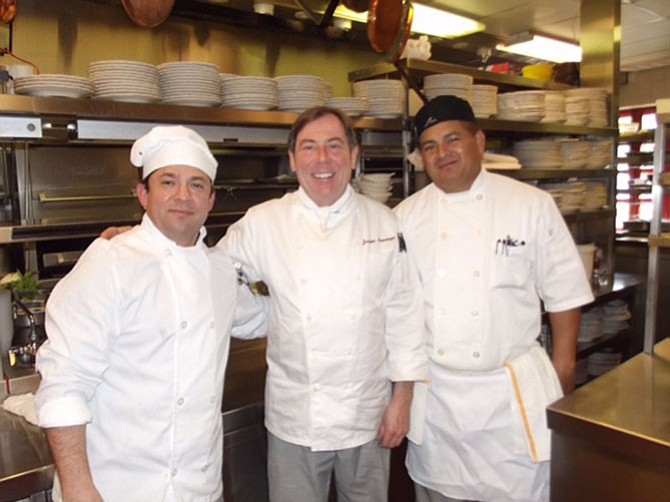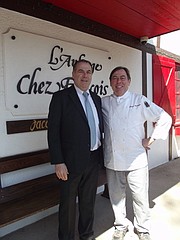 Garden to Table
One of Jacques biggest changes is the creation of two huge gardens on the back part of the property. At the height of the summer, the gardens can supply the restaurant with all the produce it needs. "People talk about farm to table and we laugh. That is so removed. Maybe it's a French thing but we grow our own food. We grow it here and within an hour it can be in the pot," Haeringer says.
The gardens are his latest passion. He has plans to expand the gardens even more. According to Haeringer, "That kind of freshness makes a difference in the dish."
Celebrations for the 40th Anniversary will run the week of April 18-24. They include a champagne dinner, a Parisian dinner with music, a cooking demonstration and luncheon, a dinner featuring Jacques favorite dishes and culminating in a dinner on Sunday that is a tribute to Papa Haeringer.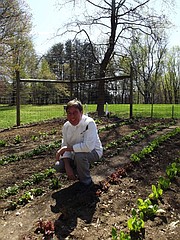 L'Auberge Chez Francois will celebrate 40 years in business this month with a series of culinary events to mark the occasion. In an era where restaurants come and go quickly, L'Auberge has stood the test of time and thrived. Both owners and patrons speak passionately about the restaurant and attribute its success to the exacting standards laid down decades ago by the man who originally helmed L'Auberge Chez Francois, Francois Haeringer.
It was Francois "Papa" Haeringer who opened the restaurant in Great Falls 40 years ago. After losing the space his original French restaurant was operating in in Washington D.C., Francois looked around for a bucolic setting to open a new restaurant. He wanted its design to be quintessentially French country and reflect his Alsatian roots. He chose six acres off Springvale Road that used to house a car repair shop, a deli and a gun shop. That small commercial tracts development was personally overseen by Francois to create the cottage style, exposed timber restaurant that still sits on the property.
The restaurant is filled with family heirlooms and antiques. It's a unique collection that immediately tells guests they are in a place of authenticity. In fact, if you look closely at the photos on the wall you will see a family resemblance to Executive Chef Jacques Haeringer, Francois eldest son who now runs the kitchen. Many photos are of his grandparents.
FOOD AND FAMILY were paramount to the senior Haeringer, who was once captured by the Germans and served his time as a prisoner of war as a cook in Munich. After the war he immigrated to America to build his family. He and his wife had three sons and the restaurant was at the center of all of their lives.
When L'Auberge Chez Francois started 40 years ago, one of the first things the family did was have a reception there after the birth of Jacques' daughter. Over the decades that it has been open, it has witnessed countless other celebrations and milestones as the restaurant has developed a reputation for being a place to go for special events. "These are our bread and butter. People know they can come here for an experience and to dine like they will have in no other place," said Haeringer.
Michelle Perrelli has been going to the restaurant for more than 30 years to celebrate special occasions with her family. "It's our favorite place to go to celebrate. My Mom, my sister and I. We always know this is where we are going for birthdays if we are in town. My daughters are nagging me to go but we haven't taken the kids. In the interim we order desserts for the girls so they can get a little Chez, too. It will be so special for them when they finally get to go," said Perrelli.
Some feel that stepping through the arched wooden door at L'Auberge is like traveling back in time to Alsace, France. Eleanor Saslaw, and her husband, State Sen. Dick Saslaw, claim L'Auberge Chez Francois as one of their favorite restaurants for just that reason. "As a young married couple, when we first started going there, we hadn't been [to France] so we didn't know how authentic it is. But now, it is so much like being there. The warmth you feel. You are comfortable and welcomed and not rushed. There is no fast pace once you are here," said Saslaw. "It's like it is in France."
Francois achieved both critical and commercial success from the start. His patrons from D.C. were willing to make the drive out to Great Falls, despite the reservations of his accountants who worried the pastoral setting was too far for city diners to go.
OPENING NIGHT was such a success, and so many would-be diners showed up that the restaurant ran out of food. They were "saved" by one of Great Falls infamous thunderstorms that knocked out power before the second seating of diners so they were able to tell people they were forced to close because of the storm.
Accolades have been as steady as customers. For the past three years in a row diners at OpenTable have voted L'Auberge Chez Francois one of the Top 100 Restaurants in the country.
Presidents, First Ladies and celebrities regularly dine at L'Auberge Chez Francois. According to Haeringer, every sitting president in the last 40 years has come to the restaurant at least once. "Obama has not come yet. There is still time though. I think he has been busy," jokes Haeringer.
Former First Lady Nancy Reagan often dined at L'Auberge Chez Francois and was said to have loved the restaurant. Roland Meisner was the White House Chef during the Reagan years and the man who introduced the First Lady to L'Auberge Chez Francois. "It was Mrs. Reagan's birthday and they wanted to take her somewhere special for lunch. I called L'Auberge and asked Francois if he would open for lunch for 30. Of course he did, he was happy to. She loved the place. She used to bring up [the restaurant] all the time," said Meisner.
If the restaurant's success was built on Francois reputation, then its expansion can be attributed to Jacques. In the last few years he has opened patio gardens and developed a café and bar in the back of the restaurant.
Jacques Haeringer has a Frenchman's passion for food and wine. His enthusiasm on both subjects is seemingly unfailing. In addition to serving as executive chef at L'Auberge Chez Francois, he is an author, celebrity chef who appears on nation television and radio regularly and cooking instructor.
"Good press only comes through hard work," says Meisner. "In the old days, and in these new days, you are guaranteed a good meal. Quality all the way. I only have one huge problem with L'Auberge - I don't eat there enough," said Meisner.
Francois never truly left the restaurant. He passed away in 2010 at the age of 91: He had worked at the restaurant until a fall a few days before he fractured his hip. There was no question that Jacques would take over the kitchen and run it in the family tradition. His younger brother Paul manages the front of the house, as well.
Jacques did put his own stamp on the restaurant with the expansions. In 2011 he opened Jacques Brasserie behind the main restaurant. It serves an a la carte menu in a more casual café style setting. It's become a popular lunch destination with people in the community.
In addition to the brasserie, there is the Rouge bar. An intimate, ruby red bar that is both seductive and chic. Staffed by the same impeccably well trained staff that works the main restaurant, locals are as likely to go for the service as the atmosphere. "It's quiet and there are no interruptions. It's still kind of hidden away and people don't know it's here. It's a bit of a secret still," said Barbara Kelly of Herndon.