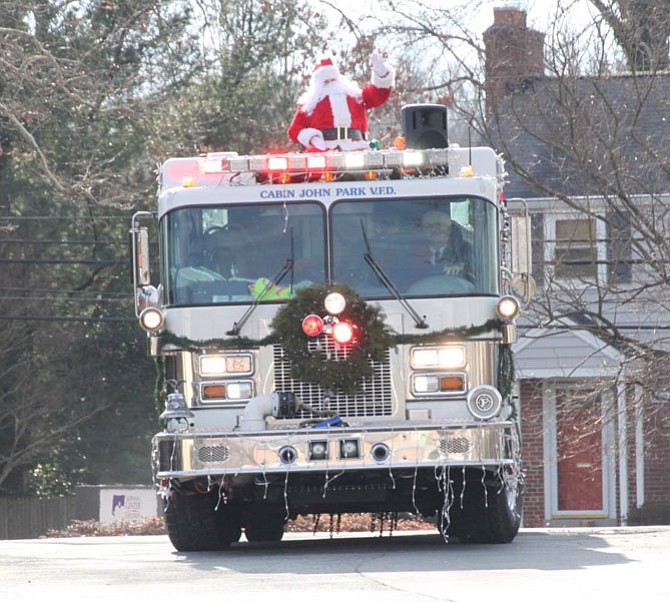 Again this year, Cabin John Park Volunteer Fire Department will host Santa Claus for a tour of the Potomac community. Santa has quite a busy schedule this time of year but will be waving to all from atop a shiny fire engine decorated for the holidays and accompanied by firefighter "elves." He is also accepting presents for children that CJPVFD members will donate to the National Center for Children and Families and the United States Marine Corps Toys for Tots program. New toys may be brought out to Santa as he passes by on the fire truck or dropped off at either Cabin John Park Fire Station 10, 8001 River Road or Station 30, 9404 Falls Road.
Everyone is invited to join Santa at noon Sunday, Dec. 24 when he delivers toys at the National Center for Children and Families, 6301 Greentree Road, Bethesda.
Santa's nightly run will go from 6-9 p.m. according to this schedule:
Friday, Dec. 8

Fox Meadow

River Oaks Farm


Potomac Farm Estates

Potomac Hills

Potomac Manors

Great Falls Estates


Potomac Falls Estates
Saturday, Dec. 9
Mountain Gate

Eagle Rock

Natelli Woods

Potomac Ranch

River Falls

Fawsett Farms
Sunday, Dec. 10
Cabin John

Cabin John Park


Evergreen

Congressional Country Club Estates
Tuesday, Dec. 12
(Also First Make Up Night)

Arrowood


Bradley Hills Grove
Wednesday, Dec. 13
Seven Locks Hills


Burning Tree Estates


Rose Hill Estates

Stonehurst Center


Smithfield
Thursday, Dec. 14
Congressional Manor


Carderock Springs

Clewerwall (The Neighborhood)

Glengarry

Carderock

The Palisades
Friday, Dec. 15
Avenel

River Road Estates

Williamsburg Estates

Concord

The Village (The Neighborhood)

Williamsburg Gardens
Saturday, Dec. 16
Congressional Country Club Estates

West Bethesda Park

Cohasset


Bradley Park

Burning Tree Valley

Frenchmen's Creek
Sunday, Dec. 17
(Also 2nd Make up Night)
Locust Ridge

Oakwood Knolls
Monday, Dec. 18
Alvermar Woods

Potomac Hunt Acres

Tara

Potomac View Estates

Merry Go Round Farms

Beallmeade

Lake Potomac

Stoney Creek Farms

Saddle Ridge
Tuesday, Dec. 19
Potomac Village

Camotop

Falconhurst

Brad

McAuley Park

Kentdale Estates

Bradley Blvd Estates

Congressional Forest Estates
Wednesday, Dec. 20
Bannockburn


Bannockburn Estates

Al Marah

Wilson Knolls

Thursday Dec. 21
This will be a make-up night for missed areas or inclement weather
Friday, Dec. 22 and Saturday, Dec. 23
Make-up Nights
For more information, visit www.cjpvfd.org.