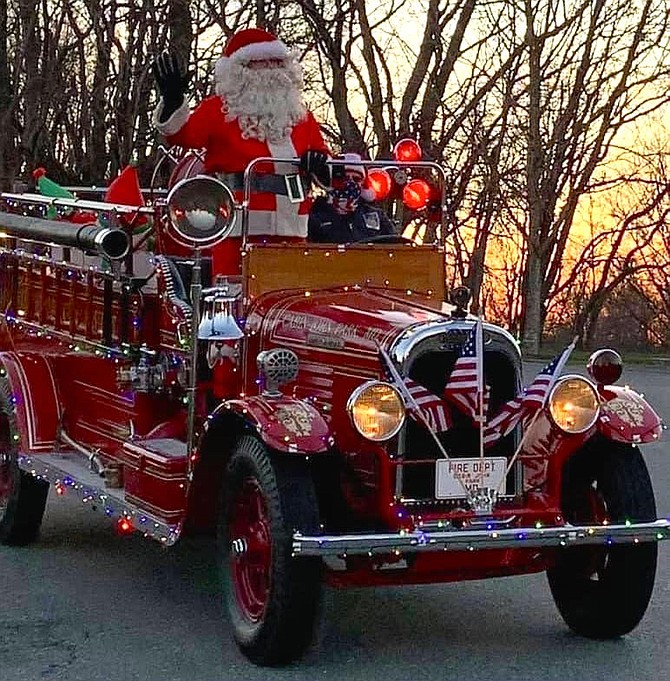 Cabin John Park Volunteer Fire Department's Annual Santa Run is underway.
Every night for the next two weeks the department's new fire engine will be transformed into a version of Santa's Sleigh. Brightly decked out with flashing lights and sending music through local neighborhoods. Santa himself will be perched on top, waving to all who gather to return the wave and enjoy the seasonal tradition.
"The pandemic has forced Santa to make some changes this year to keep everyone safe. His sleigh will not stop for pictures or any other reason. He would love to see you at the bottom of your driveway, but please do not congregate with neighbors," reads the message posted on the department's Facebook page.
Santa will gladly accept toys to be donated to kids in need, but that tradition too has a COVID change.
Donations will have to be put directly into the pickup truck following the sleigh. Or you can also drop them off at either CJP station, Station 10 on River Road or Station 30 on Falls Road near Oaklyn Drive. A box for toys will be located outside each station.
Donations will be delivered Dec. 24 to the National Center for Children and Families in Bethesda and, in conjunction with Montgomery County Police, the Scotland Drive Community Association.
Check the schedule below to see when Santa will pass through your neighborhood. His sleigh usually heads out around 6 p.m. and returns to the station at 9 p.m.
You can follow his progress on your GPS while he is active with the link: http://glympse.com/ext/!CJPVFDSANTA?twt=CJPVFD
Remember, weather sometimes plays havoc with Santa's schedule. Keep updated by checking Cabin John Park Volunteer Fire Department's Facebook page.
2020 SANTA SCHEDULE
Monday, Dec. 7
Fox Meadow
River Oaks Farm
Potomac Farm Estates
Potomac Hills
Potomac Manors
Great Falls Estates
Potomac Falls Estate
Tuesday, Dec. 8
Mountain Gate
Eagle Rock
Natelli Woods
Potomac Ranch
River Falls
Fawsett Farms
Wednesday, Dec. 9
Congressional Manor
Carderock Springs
Clewerwall
Glengarry
Carderock
The Palisades
Thursday, Dec. 10
Arrowood
Bradley Hills Grove
Make up missed runs
Friday, Dec. 11
Avenel
River Road Estates
Williamsburg Estates
The Village
Williamsburg Gardens
Concord
Saturday, Dec. 12
Seven Locks Hills
Burning Tree Estates
Rose Hill Estates
Stonehurst Center
Smithfield
Riverhill
Sunday, Dec. 13
Cabin John
Cabin John Park
Evergreen
Congressional Country Club Estates
Tuesday, Dec. 15
Congressional Country Club Estates
West Bethesda Park
Cohasset
Bradley Park
Burning Tree Valley
Frenchmen's Creek
Wednesday, Dec. 16
Locust Ridge
Oakwood Knolls
Make up missed runs
Thursday, Dec. 17
Alvermar Woods
Potomac Hunt Acres
Merry Go Round Farms
Beallmount
Lake Potomac
Stoney Creek Farms
Saddle Ridge
Friday, Dec. 18
Potomac Village
Camotop
Falconhurst
Bradley Farms
McAuley Park
Kentdale Estates
Bradley Blvd Estates
Congressional Forest Estates
Saturday, Dec. 19
Bannockburn
Bannockburn Estates
Al Marah
Wilson Knolls (1st Due Only)
Sunday-Tuesday, Dec. 20-22
Make up missed runs
Thursday, Dec. 24
Toy Delivery!