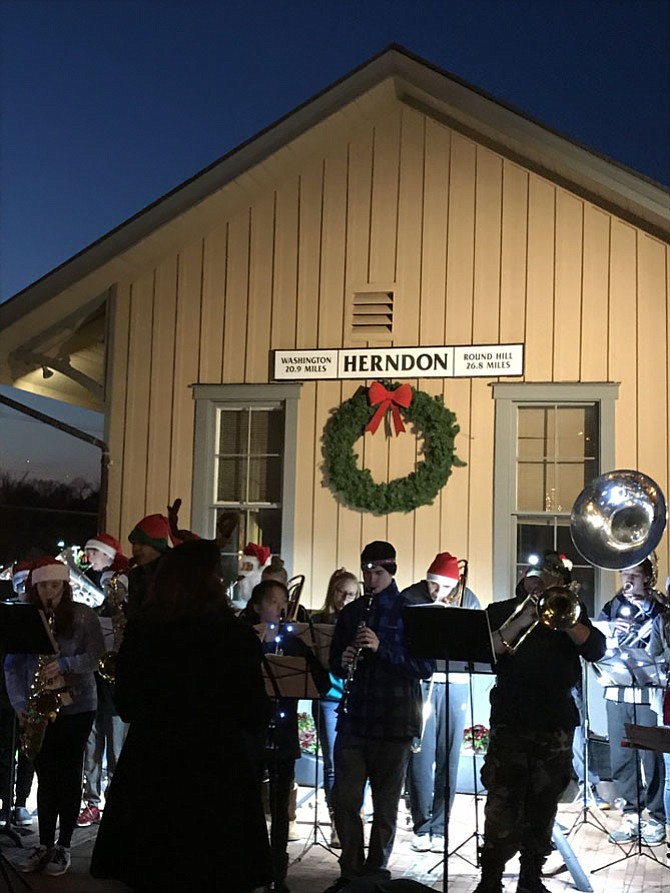 Herndon — Spectators gathered on the Herndon Town Square in the Historic Downtown District on Saturday evening, Dec. 2 to witness the annual Holiday Tree Lighting and join in a Sing-Along. The Herndon Chamber of Commerce produced the candlelit event featuring music by the Herndon High School Band: Pride of Herndon.
Laura Price attended the Tree Lighting and passed out candles to the public. Asked how many years she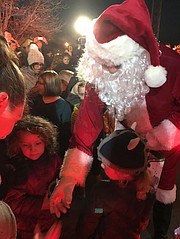 had been doing this, Price said, "I've lived in the Town of Herndon for 40 years, and this is the first time I'm lighting candles for the Chamber."
When the band finished playing, Mayor of Herndon Lisa C. Merkel walked to the microphone. She thanked the band members for their performance and reminded those present the Herndon High School Band would represent the United States at the 75th Anniversary of D-Day in Normandy, France in 2019.
Waiting a moment, Merkel put her hand on the switch and then illuminated the town's official holiday tree. The tree will remain lit in the evenings throughout the holiday season.
After the applause stopped, sirens could be heard in the distance heading up Lynn Street toward the Town Square. Most parents and children knew what was going to happen next.
Little ones clamored to the curb and waited.
With lights flashing, Santa arrived in style, high on the back of a bright red Fairfax County fire truck. Santa climbed down and spread a little holiday cheer as he shook hands with the children and passed out candy canes.
Slowly the crowd dispersed. As one mother walked away with her child, her voice could be heard in the distance. "This is going to be a long three weeks," she said.