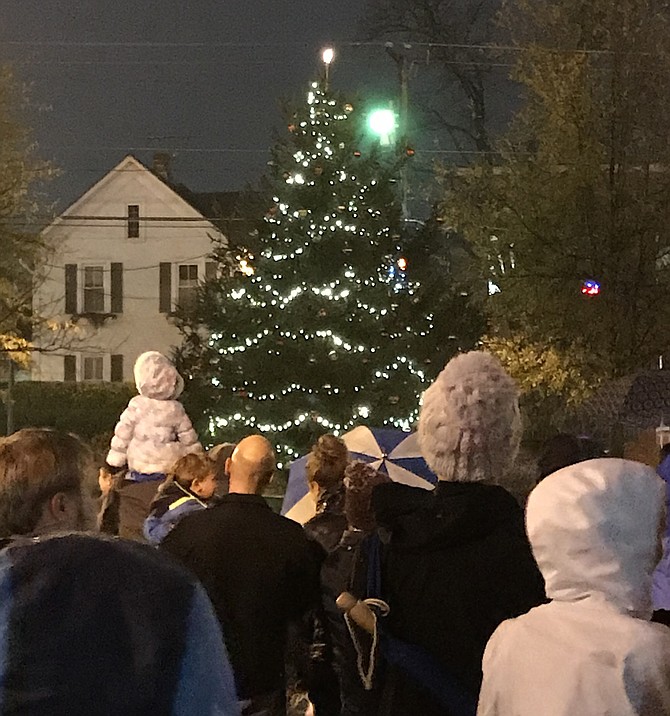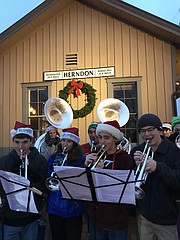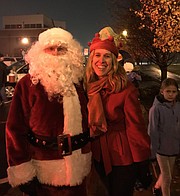 The Town of Herndon partnered with the Herndon Chamber of Commerce, part of the Dulles Chamber of Commerce, to produce the Holiday Tree Lighting & Sing-Along on Saturday, Dec. 1.
Part of the "Hometown Holidays" lineup of eleven events held mid-November through New Year's Eve, Saturday's happening featured music by Herndon High School Band directed by Kathleen Jacobs, Band Director Herndon High School, the annual tree lighting and a visit from Santa.

"We love being a part of the Herndon community," said Jacobs after the event. "The Tree Lighting gives us a chance to share our music with so many of the people who supported us throughout the year."
Former Mayor of Herndon, Michael O'Reilly, introduced Vice Mayor Jennifer Baker, who led the countdown for the tree lighting. Within seconds of the illumination, children and parents heard the wail of a fire engine siren as Santa, standing atop a Fairfax County Fire Engine made his way through the Historic Downtown District straight to the waiting boys and girls.
Climbing down the ladder, Santa wandered through the crowd and drizzle, taking time to listen to the children and talk with them.
Santa could be overheard saying, "I'll have to see about that," for nearly all the requests. He eventually walked over to Green Lizard Cycling where hot cocoa and treats awaited him and the crowd.