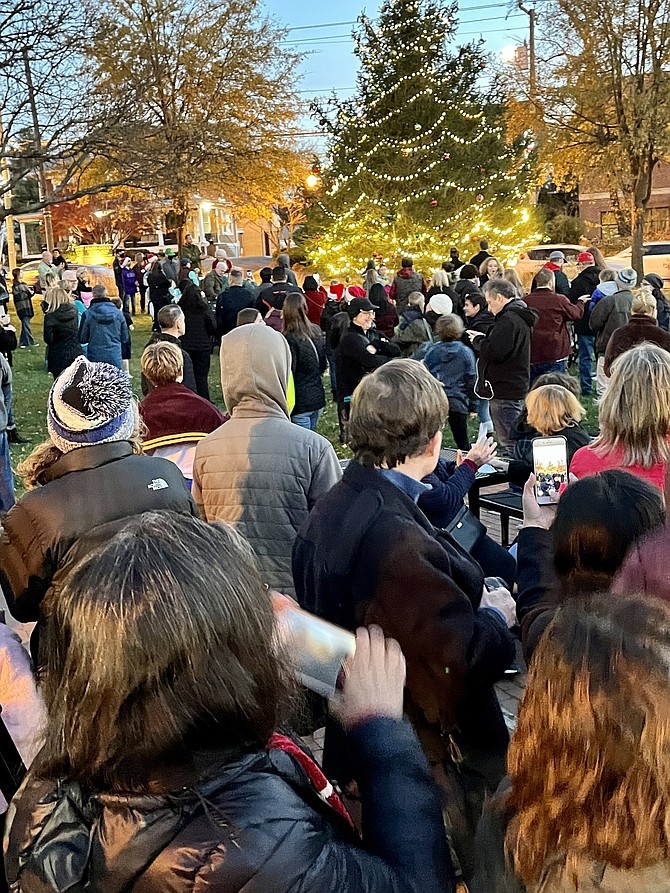 After being canceled in 2020 due to the COVID-19 pandemic, Herndon's annual Holiday Tree Lighting and Sing-Along returned to the Town Square on Saturday, Dec. 4. Neighbors and friends from the community and those surrounding the Town gathered on the brick plaza in front of the Old Town Hall and the Herndon Depot Museum. People overflowed to the grassy areas that stretched beside the W&OD Trail and onto Lynn Street to celebrate the holidays, small-town fashion, and enjoy a visit from Santa. 
"Welcome, everybody," said Joe Martin, presiden, and CEO of the Dulles Regional Chamber of Commerce. "We are so excited to start the spiritual season and kick it off right here in the Town of Herndon." The event's point person, Laura Poindexter, thanked the sponsors and participants, including the Town, the local Herndon High School Band, and its director Kathleen Jacoby.
Sheila Olem, mayor of the Town of Herndon, said she was sure the evening's special guest was looking forward to seeing all the children. Firefighters from nearby Fairfax County Fire Station No. 4 Herndon would bring Santa on their fire engine after the tree lighting and sing-along. She took a moment to point out the menorah lit beside her, put up by the Nachman brothers, Howard and Arthur, longtime Herndon residents. 
Saying she was ready for the tree lighting, Olem looked over the crowd toward Elden Street, where the tree towered in darkness. "Can I get some help?" she asked.
The crowd chanted the countdown with her. "Five, four, three, two, one, light."
The band played, and children ran under the branches of the lit tree. The Town of Herndon had officially begun its 2021 Hometown Holiday Season.  The sound of a siren from the fire engine bringing Santa could be heard in the distance, and then the siren grew fainter and fainter. The fire truck never arrived, called to more urgent concerns.
The band played longer and longer. Some families began leaving, drifting down the trail and nearby sidewalks. But, just as Santa makes no sound while leaving gifts in people's homes around the world on Christmas Eve, the man in red walked unannounced and alone out of the darkness of Lynn Street toward the Town Square. The children on the W&OD Trail noticed him first, but they did not run. They didn't even call out.
Instead, one by one, they approached Santa. He opened his sack as the small group of children grew closer and huddled around him. The first child raised her eyes to Santa, who nodded. She reached into the bag and pulled out one small candy cane, gave a quick smile, and stepped aside.