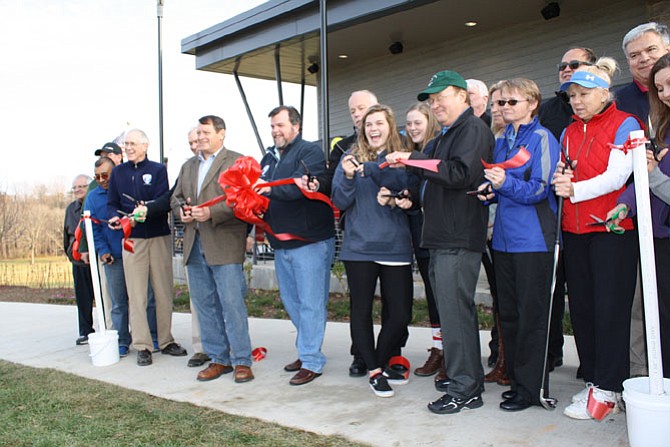 Burke — The golfing experience at Burke Lake was ratcheted up a notch when officials
cut the ribbon on a new pro shop Saturday, Dec. 2. Supervisor Pat Herrity (R-Springfield) didn't reminisce about riding his bike to the course as he was growing up in the area — a common opener for supervisors at ribbon cuttings lately — but praised the new addition nonetheless. "I think people are going to enjoy it for a long time to come," he said.
Gus Johnson was heading out for nine holes as the sun was sinking late in the day. One of the best things about the Burke Lake course is that it's a par-three course and can be played quickly compared to some longer courses around the county. "The other one [clubhouse] was pretty pathetic, the course itself is always nice," he said.
The opening of the clubhouse is the final part of the $6.6 million redevelopment project that was funded by voter-approved park bonds in 2008 and 2012, according to county information. Inside the 4,000 square foot building there are four offices, a pro shop, a full kitchen, and a snack bar with
indoor and outdoor seating. Everything is Americans with Disabilities Act compliant.
"That's the one main reason we did this, to make it accessible," said Eric Inman of the Fairfax County Park Authority.
The full kitchen expands their food choices and enables them to serve beer on tap, both of which can be accessed by patrons at the driving range as well, expanding the attraction for the whole facility. "This building helps support the
driving range," added Inman. The driving range hours go until 11 p.m. now and new food choices include pizza, steak and cheese sandwiches and burgers.
The marketing department is getting the word out about the new facilities with ads, a video for the Golf Channel, and "a postcard to 50,000 residents," said Roberta Korzen, the golf marketing specialist.
As Herrity arrived to cut the ribbon, he looked at the spot where the old clubhouse was and there was nothing but a new field of grass and no sign of the 1970s-era clubhouse. "Unbelievable," Herrity said. That spot will be the new putting green and the old putting green will be turned into a practice chipping facility. The former clubhouse didn't offer some of the new features that could bring in people and money.
Michael Thompson, the Springfield representative on the Fairfax County Park
Authority Board said it partly came down to the "business realities we faced for parks and golf courses in the county," he said. "It's better for our users and the Park Authority as a whole," Thompson said.