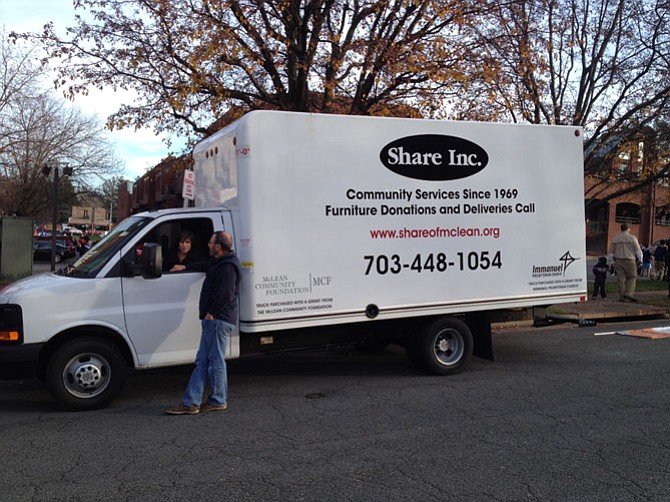 Donations received during the holidays enabled Share to help more people from Great Falls, McLean, Pimmit Hills and Vienna area than it has ever helped before.
Share's Holiday Program, which served 590 people in 2015, provided food and gifts to 790 people last month.
But the nonprofit's work goes on year-round. This is because poverty is not a seasonal need, but an ongoing concern for the community.
Those involved in the all-volunteer organization celebrated their holiday successes, but were reminded of the need still to come during its general meeting on Thursday, Jan. 12.
"Donations are generous during the holidays," says Kellen Leister, the organization's treasurer.
The community was so generous that Chris Wilbur, Share's holiday program coordinator, had to send some donated food to other food banks because Share's pantry at the McLean Baptist Church was overcrowded.
"I hate to turn donations away or tell people not to donate when we're going to need it later," Wilbur said during the meeting. "It sends a bad message that we don't need it and we do."
She said that by July, people will be "begging for food."
The organization will be looking for ways to engage the community to participate in mid-year food drives.
More immediately, the organization is looking for a new home for its Furniture Program, which provides gently-used furniture free of charge to individuals and families struggling to furnish their homes because of poverty or significant life challenges.
The Chesterbrook United Methodist Church, which currently houses the program, has given Share until the end of the month to vacate the space that it has been using.
Many clients that rely on the program have moved from homeless shelters to subsidized apartments and need basic furnishings such as beds, mattresses, tables and chairs.
"People are sleeping on cardboard boxes in empty apartments," says Vick Kimm, who has been volunteering with Share for more than 20 years. "It's an eye-opener for some of our suburban kids [who volunteer]."
While Share looks for a new place to store the trucks and furniture, it also needs more volunteers to help transport the merchandise to those in need.
"We have an aging moving force," Kimm says. "We're always looking for help."
Those interested in helping with Share's Furniture Program can contact Stew Lingley by calling 703-556-0144 or emailing slingley@aol.com.