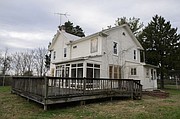 On Tuesday, Dec. 5, 2017, a ceremonial lease signing was held between the Fairfax County Park Authority (FCPA) and Resident Curator Lt. Cmdr. Steven J. McCullough in the Herrity Building at the Fairfax County Government Center. The Stempson House, a historic property in Lorton, will be the first property renovated under the FCPA's new Resident Curator Program. The Resident Curator Program (RCP) is designed to preserve historic properties by offering long-term leases to qualified tenants who agree to rehabilitate and maintain these historic resources in exchange for rent-free accommodation. A curator can be a private citizen, a non-profit entity, or a for-profit entity.
McCullough was selected as Resident Curator for the Stempson House following an application process and evaluation by FCPA's multi-disciplined administrative and financial team. McCullough plans to rehabilitate the house, garage and grounds for use as a private residence. The renovations will occur over the lease term of approximately nine years, while ensuring construction complies with the terms of an FCPA-approved work plan, as well as the federal standards for the rehabilitation of historic properties. McCullough has created a pictorial blog (www.stempsonhouserestoration.com/) to document the rehabilitation process along the way and will act as an informational resource for other prospective curators. During renovation, the Stempson House will occasionally be open for public viewing.
THE STEMPSON HOUSE property is located at 9501 Furnace Road in Lorton, in Laurel Hill Park. It was built in 1937 by inmates of the nearby Occoquan Workhouse and Reformatory, later known as the Lorton Prison, for use by prison employees as a residence, and later as a security office. The original construction materials and methods used are typical of residential housing construction in the early 1930s. As part of the rehabilitation process, the Park Authority expects to make an investment in an archaeological survey, electrical upgrades and connections to public water and sanitary sewer systems at the site.
McCullough has been an Active Duty Coast Guard officer and pilot for more than 19 years and is currently assigned to the Coast Guard Headquarters in Washington, D.C., as the Senior Watch Officer of the Coast Guard National Command Center. Growing up in Hagerstown, Md., close to many Civil War era battlefields, combined with having a father who was a history buff and attending school in one of the oldest cities in the country peeked McCullough's interest in American History at a young age. He then graduated with a B.A. in history and economics and lived in Arlington for several months before joining the Coast Guard.
Traveling frequently and owning several homes along the way, McCullough honed his do-it-yourself skills and gained experience dealing with aged structures and dated materials. His most recent restoration/renovation was a 1930s farm house in upstate New York, which included gutting a bathroom and laundry room, a major kitchen renovation, creation of a modern luxury master suite, hardwood flooring, ceramic tile, drywall and roof repair, mold remediation, a carpenter ant infestation and major landscape improvements.
McCullough learned of the RCP when he was looking for homes in the area, after receiving orders to report to Coast Guard headquarters for his last and final tour on active duty. After some deliberation, he ultimately decided he was interested in and felt well suited for the program. McCullough is a single father of a 16-year-old daughter.
SUPERVISOR Dan Storck thanked McCullough for his service to this new and innovative program, stating, "I look forward to following this project and hope that you will chronicle your progress, sharing these findings with others who may be interested in this program, as well as with the local community."
When asked about the RCP, McCullough said, "This program is a unique opportunity and I am very excited to be the pilot curator. I look forward to helping build the program in its early stages, as well as, hopefully, becoming a valued member of the Fairfax County and Lorton communities."