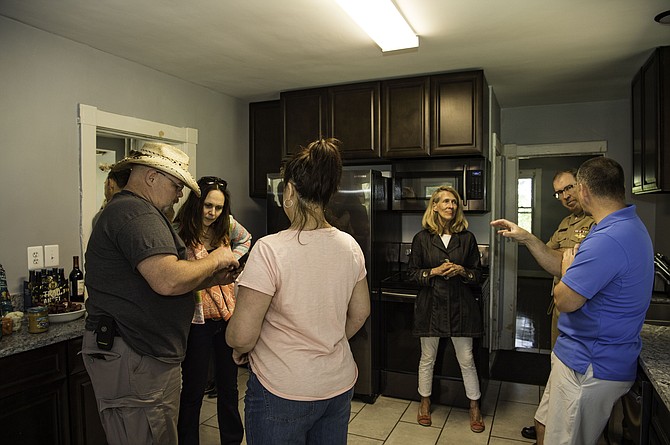 On the last weekend in April, Steven J. McCullough opened the doors of his residence, the Stempson House, to show of the work he completed in his first year of the Resident Curator Program, a resident-rehab program designed to rehabilitate Fairfax County's "underutilized historic properties," park information stated.
McCullough signed a 8.8-year lease with the Fairfax County Park Authority and moved into the Stempson House in February 2018.
"He tackled a lot of projects his first year," said Stephanie Langton, manager of the Resident Curator Program. That included work on the floors and installing a new kitchen.
The Stempson House is a "circa 1932 vernacular farm-style residence with Colonial Revival style elements," county information stated, and the kitchen needed some TLC, so McCullough updated kitchen facilities. The work he did does not have to strictly adhere to historic levels. "It's a modern kitchen," Langton said.
According to the park authority, the home is significant due to its association with the Occoquan Workhouse and Reformatory, later known at Lorton Prison. The Stempson House and associated garage are listed as contributing structures to the D.C Workhouse and Reformatory Historic District on the National Register of Historic Places, county information stated.
There were a dozen people at the open house and a county photographer as well.
To be a renter in the Resident Curator program, an application has to be submitted showing the applicant is able to do the required work and have financial capacity. McCullough had renovated other houses in the past and he has a full-time job as well. "Curators are determined through an open and competitive application process, based on a number of criteria, including a formal proposal, demonstrated experience, competency in historic preservation techniques, financial capabilities, and the incorporation of public benefits," the program instructions stated.
Another property in this program with a resident curator in place is the Turner Farmhouse in Great Falls. It has a dairy farm history and several outlying buildings as well so there is a lot of work ahead for the curator. This resident curator moved in late January 2019 and had an open house in March "just to show the work she's done so far," Langton said. This curator at the farmhouse has a 20-year lease.
The county is currently accepting applications for a resident curator at the Hannah P. Clark/Enyedi property in Lorton, near Old Colchester Road. Hannah Potter Clark built and lived in the house in the 1876 to 1925 timeframe which was during Virginia's Reconstruction Period after the Civil War. In 1986, an art studio was added to the property by resident artist Janos Enyedi. The resident curator application period for this house runs until July 5, 2019. To apply or for more information, visit https://www.fairfaxcounty.gov/parks/resident-curator-program.