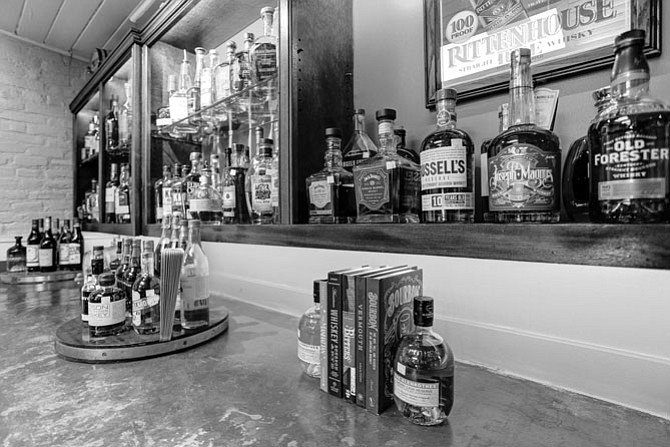 Deep within the walls of Union Street Public House, there's a new tasting room emerging, with its own offerings and its own identity: The 1986 Whiskey Bar. This bar-within-a-bar offers all manner of – what else? – whiskey, along with some cocktails.
The whiskey bar's origin story harks back to the origin of Union Street Public House: in 1986.
"We wanted to look at where we've come from over the last 31 years," said general manager Dan Patrizio. "You can't buy legacy. You can't buy time. And we wanted to really respect and appreciate the fact that 1986 was the year we started."
But while Union Street has been around for the better part of 31 years, the 1986 Whiskey Bar is a newcomer on the scene. Not even a month old yet, it's a celebration of one of the nation's finest spirits, Patrizio said.
"It came about for a simple fact that (whiskey is) America's native spirit," he said. "I love whiskey of all sorts, and I felt that it was from a business perspective an underserved commodity here in Old Town. There's a ton of exceptional places to dine, but there weren't a lot of places you could go have a proper whiskey."
1986 aims to change all that. From a plethora of whiskeys available to enjoy all by themselves to a tableau of cocktails that range from traditional to creative concoctions, the bar aims to be accessible to both hard-core whiskey connoisseurs and more casual acquaintances.
Three dozen different whiskies and bourbons make up 1986's body of work at the moment, ranging from the house whiskey – Old Forester, which began production in the 1870s and continues to the present day – to more far-flung choices. On the cocktail front, diners and drinkers can expect traditional standards, such as the old fashioned, as well as signature creations such as the Irish Brigade, a vanilla-infused whiskey with chamomile tea and luxardo.
Don't drink whiskey? Don't worry. 1986 also offers aged rum, tequila and more.
So far, the whiskey bar "has been very well received," Patrizio said. "We've been very pleased with the community response. The community was looking for things like this. They're looking for the rare and the interesting."
Need a little nibble with your drink? 1986 is in the process of ironing out its own menu, but while that's in process, they've got you covered with Union Street Public House's traditional bar menu.
Patrizio says the accessibility of the bar is one of the things he's proudest of. It doesn't require a membership card to get in; it's not a hidden speakeasy. 1986 is open for whoever comes in the door — and Patrizio hopes customers will be comfortable.
"When you walk into 1986, you know that this is a place you can come, you can enjoy, you can have the experience you are looking for because it's intentionally approachable," he said.
Hope Nelson owns and operates the Kitchen Recessionista blog, located at www.kitchenrecessionista.com. Email her any time at hope@kitchenrecessionista.com.