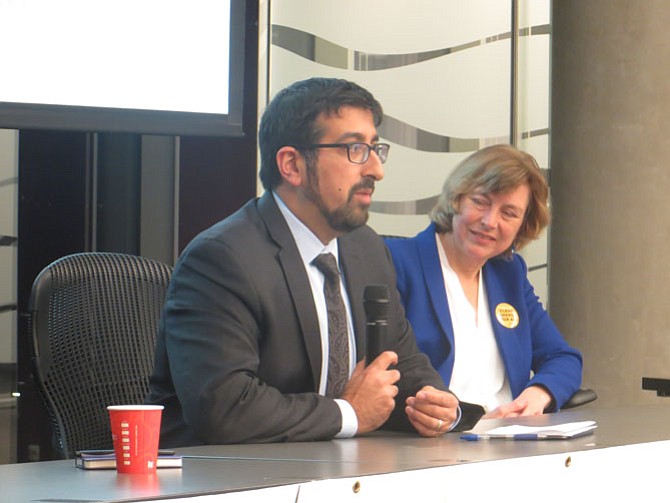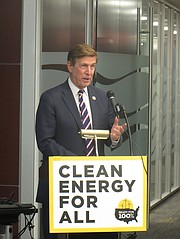 How can Alexandria get more environmentally friendly?
It's a goal that's been a major topic of conversation in Alexandria in 2017, between the update to the environmental action plan and the requirement from the state that Alexandria replace its aging sewer system.
On Dec. 7, a panel of experts hosted by the Sierra Club discussed the future of green energy in Virginia and what Alexandria can do specifically to reduce its environmental impact.
In the opening remarks, U.S. Rep. Don Beyer (D-8) said the recent election has him optimistic about the state's environmental future.
"I'm much more optimistic," said Beyer. "We will have a General Assembly, no matter which party controls it, more moderate and more centrist and push Dominion Energy in the right direction."
But the experts on the panel said there's still a long ways to go until Virginia, and Dominion Energy specifically, is eco-friendly.
"We were always told 2016 was going to be the year solar energy was able to compete with fossil fuels," said Ivy Main, renewable energy chair for the Virginia chapter of the Sierra Club. "Wind already reached that, but we're at the point where wind and solar can compete with fossil fuels at unsubsidized prices. But Virginia has a legacy of fossil fuels and nuclear use. We have a regular monopoly utility system that favors power plant construction over efficiency. Dominion Energy, the largest utility, is primarily a gas company."
Main also noted that localities can be hindered by the Dillon Rule, which means localities only have the powers to implement laws the state will allow them.
"There are things cities and counties in other states can do that we can't," said Main.
But there are still efforts the city can undertake to reduce its environmental footprint. City government is a relatively small part of the city's overall electrical consumption, only four percent, but it is the largest single user. Praveen Kathpal, vice chair of the Alexandria Environmental Policy Commission, said there are several ways the city can lower its electricity consumption.
"The first is purchasing renewable energy credits," said Kathpal. "Alexandria buys renewable energy credits equal to 19 percent of its energy use. That's above many of our peers, but there are significant opportunities to go from 19 percent to 100 percent pretty much overnight."
Kathpal also said the city has to be willing to keep environmental policy in the spotlight of its budgetary discussions.
"For any of this to be sustainable, it can't just be niche," said Kathpal. "It has to be fundamental. It can't just happen every five to eight years when we update the environmental action plan. It has to happen every day. The city should have a carbon budget in addition to an operating budget, to know if we're meeting commitments instead of just photo ops and press releases at an opportune time."
Alexandria isn't alone in these efforts and can take lessons on what works from some of its neighbors. Michelle Amt, director of sustainability at VMDO Architects, pointed to the Renew Ballston efforts in Arlington, where a system is being established to fund green renovations of commercial projects when they're mid-lease.
"Normally these are done when leases are coming up, but those can last 20 years," said Amt. "They're using a non-profit to connect parties and loans from [Commercial Property Assessed Clean Energy] to enable businesses to implement efficiencies."