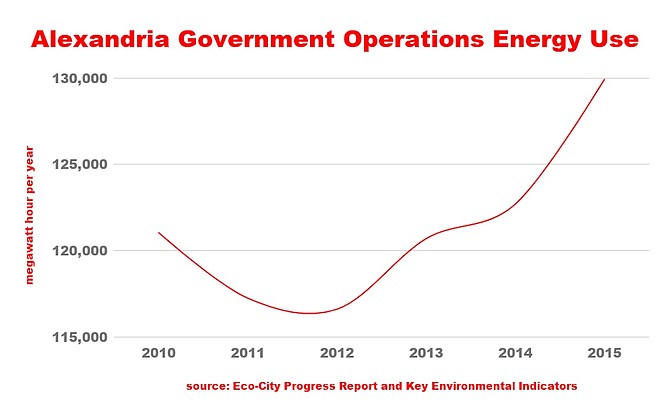 Alexandria adopted its Eco-City charter with great fanfare in 2008 along with a promise: The charter would be renewed in a decade. That deadline has now come and gone with no plans to update it. In 2009, members of the City Council approved an Eco-City action plan along with another promise: It would be renewed in five years. Once again, city officials breezed through that deadline. The promised annual progress reports happened for a while, but city officials haven't released one since 2016. For some members of the Environmental Policy Commission who were part of shaping Eco-City a decade ago, the broken promises and missed deadlines are frustrating.
"Frankly, I feel like the last four years of leadership were caught up in other dramas," said Danielle Fiedler, who was chairwoman of the commission when Eco-City Alexandria initiative was adopted. "If you're going to have this environmental action plan, you should be updating the short term action items. Those should be revisited every five years in order to stay on top of this."
The last decade has offered a mixed picture for the city's environmental health. Alexandria continues to dump more than 10 million gallons of raw sewage into the Potomac River every year, although city officials now have a plan after state lawmakers threatened to withhold money from city schools in 2017. Energy use in city government facilities has increased 11 percent since 2012, reflecting a tension between growth and conservation. Alexandria currently purchases renewable energy credits equivalent to 60 percent of its energy use, although the city manager's proposed budget calls for 100 percent by next year. And then there's that charter revision that never happened and an action plan that city officials are just now getting around to updating.
"You don't accomplish things by making a list and putting them on the shelf," said former Del. Rob Krupicka (D-45), who helped create Eco-City Alexandria as member of the Alexandria City Council. "You accomplish things by making a list and then constantly revisiting it."
THE IDEA OF Eco-City Alexandria began with a strategic planning process back in 2007, shortly after the United Nations concluded that the rise in global temperatures was the result of greenhouse gas concentrations. When the Alexandria's action plan was adopted in 2009, Alexandria was one of a handful of cities across the country that had created its own plan for dealing with climate change. The timing worked well for Alexandria because when the global economy tanked, city officials had a ready-made list of shovel-ready projects that qualified for federal stimulus money. Plans to install solar panels at Beatley Library, for example, were fast-tracked for funding through the American Recovery and Reinvestment Act.
"In Alexandria, we recognize the quantity and sources of energy used by local government, businesses and residents affects our environment and quality of life." said then Mayor Bill Euille during testimony to the Senate Environment and Public Works Committee in the summer of 2009. "Local governments play a critical role in improving energy efficiency, shifting the country to cleaner sources of energy and reducing greenhouse gas emissions."
The action plan laid out a series of goals and metrics. Now, a decade later, city officials say many of those goals have been achieved. Greenhouse gas emissions, for example, are on track to be reduced by 20 percent the 2005 level by 2030. Every new municipal building in Alexandria has been designated LEED Silver or better since 2005. And although Alexandria never set a target for renewable energy production, city officials currently purchase renewable energy credits equivalent to 60 percent of city government electricity usage. When City Manager Mark Jinks introduced his proposed budget for fiscal year 2020 in February, he included plans to improve on that success.
"During FY2020, all expected city government electrical use will be linked to renewable sources such as wind, solar and biomass," Jinks wrote in the introduction to the budget. "As part of the green buildings policy review and report to City Council this spring, I will recommend that the city raise its green building goal for city facilities from the U.S. Green Building Council's LEED Silver standard to LEED Gold."
ADVOCATES FOR ECO-CITY say the biggest success is one that can't be easily quantified — a culture shift at City Hall. Before Eco-City, concerns about the environment were largely the domain of the Department of Transportation and Environmental Services. Critics worried that approach would not be successful in reducing greenhouse gas emissions or encouraging renewable sources of energy. That's why they say the exercise of putting together an action plan and assigning specific goals to departments throughout the city government was a success in its own right, shifting the priority from one department to across the organization.
"One of the successes that lurks in the action plan is a mindset that the city has got to do its bit for the environment, and that is now enshrined in all the planners," said Peter Pennington, who was a member of the Environmental Policy Commission when the Eco-City initiative was launched. "When developers come in with a brand new scheme they have to face up to the fact that there are environmental things they have to do."
There's the open space requirement, for example, that they have to meet. And when some tried to install a green roof and call it open space, members of the commission pressed city officials to make sure big-money interests were not gaming the system. Then there's the desire for LEED certified buildings. As it turns out, Alexandria didn't have to press developers too much on that because the market demands shifted and sustainable building practices have become the norm with most projects. Perhaps the more difficult hurdle is the population itself with Alexandria residents finding a way to decrease the carbon footprint of their own lives.
"The city has done a lot of things to heighten awareness. But I think ultimately it comes down to individual behaviors, and I think there's still a long way to go." said Patrick Hagan, a member of the commission when Eco-City was created. "I think that the behavior of individuals is what really needs to change."
ENERGY CONSUMPTION is one of the metrics that Alexandria began documenting in Eco-City annual reports starting in 2011, a reflection of the city's efforts to cut back on greenhouse gas emissions. In the first two years, energy consumption declined by 4 percent. But since 2012, consumption of energy for government use increased 11 percent. City officials say that's a reflection of new city facilities, including a new police headquarters and a new fire station — both data-heavy buildings that have a higher demand for power.
"In some ways, that's the cost of delivering services to the community," said Bill Egers, energy manager for the city government. "As we deliver more and more services, there's a tradeoff. And that tradeoff is an absolute increase in overall energy consumption for both electricity and natural gas."
Those Eco-City annual reports may be a thing of the past though. It's been three years since the last one, and now city officials are ready to move into the next phase of the environmental initiative. Last October, City Council members approved a short-term update to the Eco-City action plan. And this summer, council members will be considering a long-term update. That could open the door to a new Eco-City charter, which would finally fulfill the broken promise from a decade ago.
"With our new City Council makeup and our new mayor and vice mayor it would be really helpful for them to take a look at what the actual vision is," said Jessica Lassiter, a former member of the Environmental Policy Commission who helped created Eco-City Alexandria. "We need to take a look at the actual vision for the city and make sure it's still relevant because I think a lot has changed."