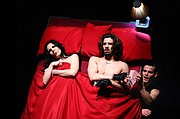 Synetic Theater in Crystal City is staging the Shakespeare comedy, "Taming of the Shrew," from Feb. 15 to March 19. This battle-of-the-sexes play will be wordless and enacted with all the acrobatic motion that Synetic is known for. The production, which stars choreographer and associate artistic director Irina Tsikurishvili, is recommended for ages 14-plus for its nudity and sexual situations. It was made into the 1967 movie starring Elizabeth Taylor and Richard Burton.
Producer Paata Tsikurishvili said he decided to produce the play to show Shakespeare's universality: "This is a play that has some pretty worn out attitudes, and I wanted to show it in a new, more ironic light; this play still has something to offer, by virtue of its being in Shakespeare's canon. I want to prove that this play can not only be funny, but relevant, smart, sexy, and ultimately very charming and romantic. I also wanted to highlight the shallowness of the play's misogyny, by showing how it can only really exist in the most materialistic and manufactured of environments."
He said there were two main challenges for him as a director. "One was combining all of our talents to create a real Broadway-level show; something that's epically funny and does justice to the original text. And the other was combining the play's old-world mentality with our ultra-modern, glamorous, Kardashian-like characters, while still maintaining the play's physical comedy. And to do this without seeming cruel. It was quite a balancing act, especially with our uniquely visual storytelling."
Ryan Sellers is the playing the role of Petruchio, a James Dean-type of bad boy. "He is tough and he doesn't ask for forgiveness for the actions he takes. Not unlike the Joker, he isn't bothered if people don't understand or approve of the things that he does," he said. "He has the ability to be harsh, sweet, cruel, and kind, and he seamlessly switches from one extreme to the other in order to achieve his objectives."
He said the biggest challenge in working towards creating lightness, comedy and truth in this show was "working against the natural misogyny that can be easily implied in the actions (and text) of the story."
"To show that, despite all of Petruchio's crudeness and gas lighting, it is Katherina's strength and substance that makes her a match and perhaps even overpower him. What he possesses in physical strength, she surpasses with emotional and spiritual steadfastness," he said.
He added: "It was important to come to a place of not making excuses for Petruchio, but letting him take extreme courses of action without questioning or judging that as an actor."
He said what he hopes audiences will take away is: "The show is fun to be in and funny to watch, and it's main goal, from my perspective, is to bring lightness and humor to the audience at a time of great social heaviness. It also has weaved into it by the artistic staff, a story of gender equality and excellent commentary on materialism and celebrity."
Irina Tsikurishvili is playing the role of the spitfire Katherina. "She is someone who has an incredible sense of self awareness and doesn't care what others think of her," she said. "It is because of this awareness, and independent thinking, that she is able to recognize and resent that she has been under the control of her father her entire life, until her father decides she is to be put under Petruchio's control, which she hates even more."
As far as challenges, she said: "While playing this character, I am constantly going from one extreme on the emotional scale to the other. Always lashing out it seems. It doesn't help that there are a lot of feelings in the air, across the country, specifically about the rights of women, their status and role. It's hard to keep your true emotions at bay and this is a hard play not to politicize right now."
She said she hopes audiences will understand that a play like this, with some very archaic attitudes and stereotypes, can still be relevant and be an example of what to do and what not to do. "I do think it's possible to get that message across; it is Shakespeare, after all. And I think we've found that this play can still surprise us and leave the audience happy, with a sense of joy and satisfaction," she said.
Synetic Theater in Crystal City is staging Shakespeare's "Taming of the Shrew" from Feb. 15 to March 19. Show times are Wednesdays through Saturdays at 8 p.m.; Sunday matinees at 2 p.m. Tickets are $20 to $60. The venue is located at 1800 South Bell Street, Arlington. Call the Box Office at 866-811-4111 or visit the website at www.synetictheater.org.