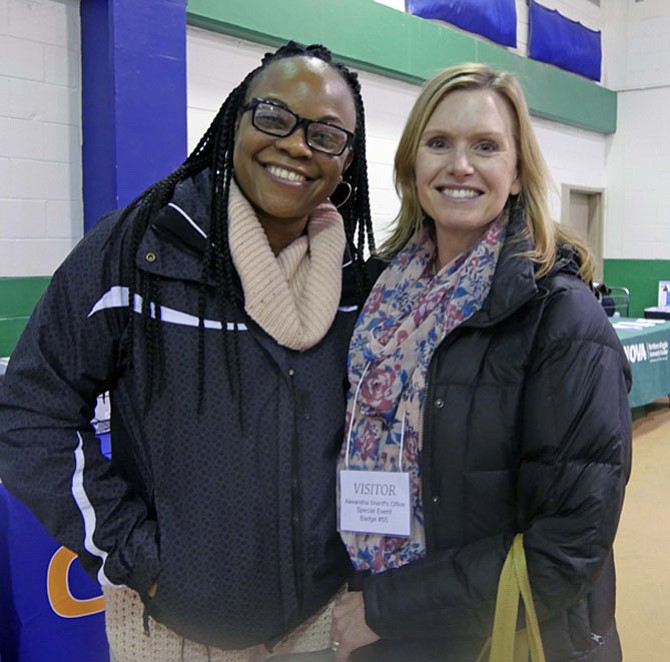 Alexandria — Prisoners crowd around several tables in the Detention Center on Feb. 9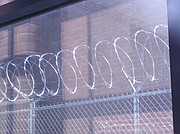 while others sit in chairs waiting for the short presentations. Mayor Allison Silberberg has just told the prisoners, "Everyone has a place in Alexandria. We are an embracing and accepting community."
This is the first prisoner Resource Fair held by the Alexandria Sheriff's Office for prisoners who are scheduled to be released within several months. The event was set up to allow inmates to make connections with resources that can help them succeed when they return to the community. Four groups of prisoners totaling about 85 rotated in and out of the Resource Fair during the afternoon.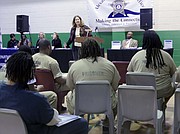 In the past, workshops were held with a different format of short presentations on a number of topics. In that format participants were required to listen to information that didn't necessarily interest them. Now a participant can target whether they want to go to the veteran's information table or stop by the legal services table, DMV or one of the city agencies.
"My favorite places today were Arm & Arm, Charles Houston Recreation Center and NOVA. As a matter of fact I was carrying my books on the way to class the day I was incarcerated," says Nicole Copeland who is due to be released into the community Feb. 23 after her five-month stay at the Detention Center. "I've been in and out several times, and I like the idea of Arm & Arm because it is a peer support group." She continues, "Someday I want to be part of the solution, to help other people." Arm & Arm provides assistance for individuals and their families through the transition process "through peer guided behavioral strategies."
Copeland said she also liked the idea that Charles Houston Recreation Center, close to where she lived, brings in different companies every Friday who hire ex-offenders. "They try to alleviate the barriers between employers and ex-offenders." Copeland adds, "With a record like mine, I could use a buffer." She adds, "I'm 50; I got to get it together."
Just inside the door, representatives of Northern Virginia Community College (NOVA) answer questions about classes offered in prison and transition to campus. Krista Sofonia, who coordinates the NOVA classes inside the prison says, "We started the program in 2012 to give the prisoners a head start." She explains the students take general studies like history, sociology and psychology that are applicable to the campus curricula when they are released. "It has been a very big success. It motivates the people in the GED class who never thought they could go to college." And she adds that professors who have taught on the outside say they like it a little better here because the students have to meet NOVA requirements and we make sure they want to be here."
Two men stand at the Miller and Long Concrete Construction table getting details about how to apply for a job in its Bethesda office. They stare at the picture of the crane with the workbasket and listen to the recruiter's experience working up there for 14 hours a day. He tells them: "We are an equal opportunity company and we get some good employees."
Others are attracted to job opportunities with Together We Bake that is a non-profit organization founded to develop programs for women who need a second chance. The mission of Together We Bake is a comprehensive workforce and training as well as personal development program targeted toward sustainable employment in the food service and hospitality industry. Stephanie Wright, co-founder explains, "We offer a class for about 10 women three times a year. We teach food safety, how to run a small business and give them hands-on baking training experience.
Keisha Davis, a recent graduate of the class says, "I was a success story." Davis currently runs the Together We Bake empowerment group. "It allows me to help other women to be successful who come from the same background."
Tyrese Roberts says that today he is looking for anything that is related to food. Roberts is scheduled to be released March 15. "I have a culinary license and I have worked in multiple restaurants as a host, then shift manager working my way up." He says, "I have a crab cake recipe with a twist. I can't tell you the secret because that's the twist." And he makes a mean baked ziti. But Roberts doesn't want to be in the back of the house as a chef taking orders from other people but instead would like to run his own restaurant. He is looking forward to reconnecting with the community and a new change in life. He says he is not scared but more overwhelmed at the idea of reentering the community. "Like everyone else, I do have a big problem with rejection."
Sheriff Dana Lawhorne stands near the probation desk manned with Chief of Probation and Parole Lisa Stapleton and three of the 16 probation officers. Brochures are out on their table on Putting the Pieces Back Together and the T4C program for cognitive behavioral restructuring. Staples says, "We tell today's clients about the programs that our office offers and what to do when they get out. The first question is "are you on probation?" and if so, they are told to report ASAP, which means within three days.
Stapleton is also the co-chair of the Alexandria Reentry Council that was set up in June 2011. It represents a collaboration of about 20 different agencies who meet quarterly to share information, network and talk about initiatives in the city. She said it was the convergence of a system of mapping that identified reentry as a priority combined with "Governor McDonnell beginning to put an emphasis on reentry at the state level."
Representatives of Offender Aid and Restoration (OAR) and Guest House, both non-governmental organizations, are there to offer information on services available to assist ex-offenders. OAR provides re-entry services to previously incarcerated individuals including transition assistance, and employment coaching. Guest House, located in Del Ray, is the only residential facility in the Northern Virginia area for recently-
released women who were non-violent offenders. It offers a three-month residential stay with resources like counseling, education, case management, life skills development and mentoring. It is supplemented by an after-care program of 6-9 months.
A comment from one of the prisoners sums it up: "Now that I know better, I do better."