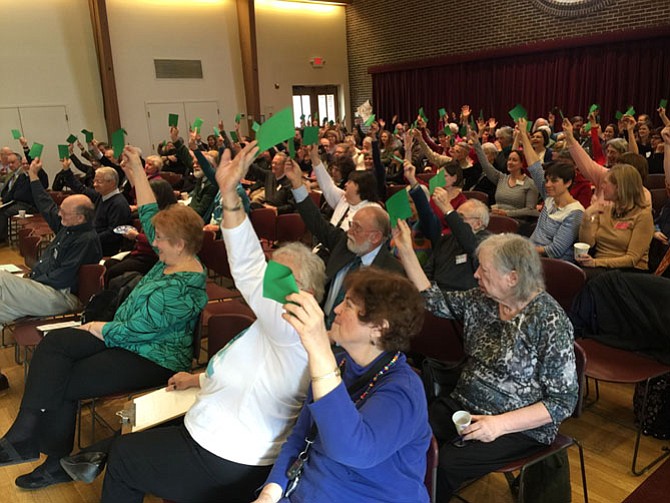 Mt. Vernon Unitarian Church (MVUC) members unanimously passed a Declaration of Conscience at a formal meeting Sunday, Feb. 12 that reads in part: "In the face of looming threats to immigrants, Muslims, people of color, and the LGBTQ community and the rise of hate speech, harassment and hate crimes, we affirm our belief in the inherent worth and dignity of every person."
The declaration also mentions threats to health care, reproductive rights, and climate change mitigation and says, "We will oppose any and all unjust government actions to deport, register, discriminate, or despoil."
The declaration was proposed by the Unitarian Universalists Association (UUA) and the Unitarian Universalist Service Committee (UUSC) for adoption by congregations and signing by individuals.
MVUC Pastor Rev. Dr. Kate Walker said, "I am delighted that members of Mt. Vernon Unitarian Church clearly understand the ramifications some of the Presidential executive orders are having on the most vulnerable in our country and those who need safe haven here due to violence and economic nightmares in their own countries. This statement speaks beautifully to our concerns and is based on the religious principles that our faith is grounded upon."
Passage of the declaration allows Walker to represent the congregation in public writings or speaking on the issues and allows members to "share that their religious community is committed to and engaged in a fight for justice, equality and compassion for all," according to a message Walker sent to members with the proposed declaration.
The message also stated that "There is a sense of urgency and a need for vigilance since the elections. There is clarity that we must act, not alone, but together. This is not about partisan politics. It is a principled response to the potential targeting of people not for what they have done, but for who they are. It is a commitment to speak out and to act in support of basic human rights."

MVUC engages in a number of social justice programs and is a member of Ventures in Community, a group of 60 local faith-based and nonprofit organizations and VOICE, Virginians Organized for Interfaith Community Engagement.