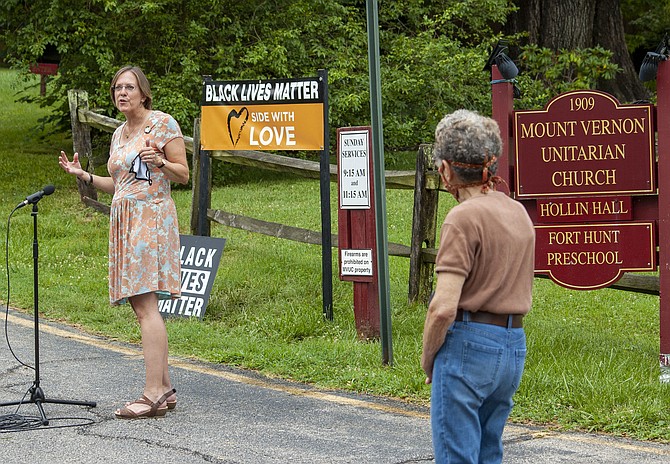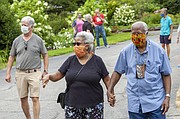 About 25 members of Mount Vernon Unitarian Church (MVUC) — masked and socially distanced — joined Pastor Kate Walker the morning of July 7 to dedicate three Black Lives Matter signs, one at the drive to the church on Windmill Lane and two on Fort Hunt Road under the directional signs to the church.
Rev. Dr. Walker said the signs are "a big public statement that we are allies to black people in the fight to end racism."
"Our Unitarian Universalist first principle is that we believe in the inherent worth and dignity of all people, but we find that not everyone is able to live with worth and dignity. Black, brown, and Indigenous people are marginalized and oppressed by systemic white racism," she said. "We recognize that Black Lives Matter and we are going to act that way."
The ceremony included a reading of Maya Angelou's poem, "I Know Why the Caged Bird Sings," and flute music.
Rev. Walker said the idea for the signs came from the congregation through the board of trustees. Other Unitarian churches in northern Virginia have also posted signs. She said Black Lives Matter yard signs and lapel buttons will be available to members who want to post signs at their houses or wear buttons at Zoom meetings.
She said that the Black Lives Matter movement emphasizes the need to address the racial profiling, police brutality, voting restrictions, mass imprisonment, and unequal treatment of African Americans and other people of color, and that MVUC is committed to dismantling systems of oppression and eradicating racism wherever it is bound into the fabric of life.
Throughout its history, MVUC has engaged in efforts to achieve social justice in the greater Washington area and beyond. Rev. Walker has run several seminars on racism at the church and said MVUC will continue transforming its community into an antiracist church and dismantling white supremacy. Knowing this work begins and continues with self-assessment, members and friends are engaging in a cycle of education, reflection and action aimed at fulfilling their Unitarian Universalist principles, which also include acceptance of one another, spiritual growth in community, and working toward world community with peace, liberty, and justice for all.