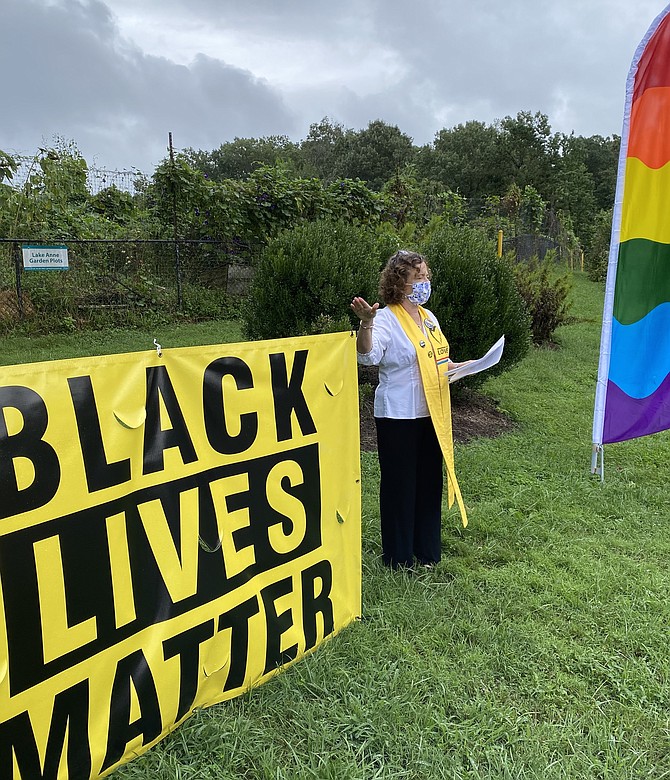 "Beacon of hope to those who drive by. A demonstrated symbol of our commitment to justice and welcome." Those are the words Rev. Dr. Debra W. Haffner, Minister, Unitarian Universalist Church in Reston, 1625 Wiehle Avenue, Reston, used on Sept. 12 to describe the fifth Rainbow flag and the second Black Lives Matter banner that flew at the entrance of the church. They replaced the ones stolen in June.
Before asking those gathered to join her in prayer for the flags' dedications, Rev. Haffner said she wanted people in the community, the press, and those who perpetrated the hate crimes to know two things. Unitarian Universalist Church in Reston will put up a new banner and a new flag every time one is stolen. "But what I also want them to know, is there is now a hidden camera on this property, this piece of land," she said. "We will be able to trace your photo if you vandalize these flags. Not to have you arrested, but to enter into restorative justice with you. Talk with you, to tell you why we know that God loves all of us just the way we are and to ask for your service to make reparations in our community."
According to Haffner: "Our Unitarian Universalist faith is founded on the affirmation of the dignity and worth of all people. Not one person is outside of God's love, of our love for our neighbors and ourselves. We are all worthy and we are all interconnected. And yet, in our country, too many people do not recognize the rights of everyone. So, we have this flag and this banner to proclaim the rights and worth and dignity of LGBTQ people, and the rights and worth and dignity of black people."
Leading all in prayer, Haffner said they dedicated the fifth Rainbow flag to affirm that sexual and gender diversity are blessings that enrich all. Rev. Haffner said she understood how their faith saved lives and, based on her conversations with the queer community in Reston, how much the Rainbow flag that hung for two years and was the only free-flying Rainbow flag in Reston meant to them. "They saw the Rainbow flag and knew they would be welcome here."
In dedicating the church's second Black Lives Matter flag, Haffner said they did so to "affirm that we will work to end racism in ourselves, in our conversations in the Reston community and in our world."
"May our Black Lives Matter flag let people of color in Reston, black people, brown people, indigenous people know that they are welcome, loved and supported by our church," she said.
David Okerson of Reston attended the dedication with his wife, Barbara. According to David, the flags symbolically showed the community a love they, as a congregation, felt everyone deserved. Chris Topoleski, leader of the church's LGBTQ Task Force, added, "I'm just really proud of this organization. We're proud of the church... love prevails."
Barbara Okerson brought an added perspective. "For me, this event signifies the persistence that's necessary to really create change, in our country and in our community. So, my vote is my voice and I encourage you all to use your voice."