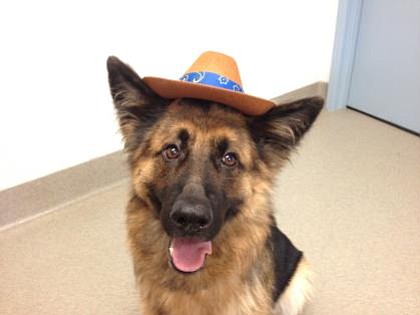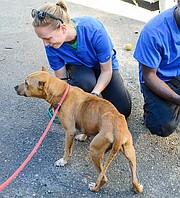 Natasha had been abandoned and was wandering the streets of Arlington under the blaze of a hot summer sun when she was rescued and taken to a local shelter. When handlers at the shelter leashed the German Shepherd mix, she became aggressive with other animals. After months of behavior classes, however, she began to trust and her pugnacious disposition became docile. Within months, Natasha was adopted by a family with small children.
"Most people wouldn't think of a German Shepherd as a kid-friendly dog, but that's a great example of how by taking a dog at their face value and looking at their personality rather than their breed, you can end up with a great dog that you wouldn't have thought of before," said Chelsea Lindsey, communications specialist for the Animal Welfare League of Arlington.
Lindsey says that Natasha's adoption dispels a common misconception that certain breeds are better suited than others for families with children. Lindsey and other shelter counselors say that when selecting a family pet, parents should consider factors such as the animal's temperament and the family's ability to afford and care for a dog properly.
"We want to understand your family's environment and match it up with the best dog." — Gina Lynch, Outreach Coordinator, Humane Society of Fairfax County, Inc.
"We don't say there are breeds that are better with kids than others. Some pit bulls are great with kids and some aren't," said Lindsey. "You really have to look at the individual personality of the dog. Are they going to let kids tug on their ear or take away their toys? Just because a dog is a lab or golden retriever doesn't mean that they're going to be good with kids."
Before selecting a pet, families should do an assessment of their ability to give the new pet proper socialization, training, exercise, and attention. "You have to be realistic and honest with yourself," said Lindsey. "Puppies are appealing and hard to turn down, but they're a lot of work. Maybe your family is looking for an adult dog that is already house trained."
One of the first steps to successful pet ownership is beginning with an animal that is the right fit. Counselors are on hand at local shelters to help with the adoptions process. "We want to understand your family's environment and match it up with the best dog," said Gina Lynch, outreach coordinator for the Humane Society of Fairfax County, Inc. "Half the people who walk in to adopt a specific dog end up adopting something else after they talk to a counselor. You might want a puppy, for example, but if you're gone a lot during the day, an older dog that doesn't need as much attention might be a better match."
"When anyone adopts a dog, it's important to work closely with the counselors who know the dog best, so they can tell you about any personality issues," continued Lynch. "If a dog has recently lost its owners, for example, it might be depressed."
Becoming familiar with an animal's history before deciding to adopt is one of the recommendations Lynch offers. "It's like when you buy a used car, you want to know all you can about the car so that you can be an informed buyer," she said.
One-on-one counseling for families to help with the adjustment of adding a pet to a family is recommended, says Lynch. "We teach families that dogs have to have their own space and an area to eat," she said. "We want to give the best advice to make it a good situation. That's why the whole family has to be there. Until the dog gets used to your household, it's best to give the animal their space."
Often, young children don't have the emotional maturity necessary to control their feelings or the skill set and physical strength needed to care for an animal, says Lynch, so interactions with family pets must be observed closely by a parent to help ensure safety.

"With regard to bringing a pet home, supervision is key in all interactions to make sure that both the child and the animal are safe and comfortable and being handled appropriately," said Joanna Fortin, community outreach and adoptions manager for the Animal Welfare League of Alexandria. "It can take weeks to months to get acclimated, particularly if the pet hasn't lived with a child before. We encourage parents to be vigilant for a few months. We advise them about the potential issues that could arise so that they can coexist peacefully."
"When the family does bring the animal home, we do encourage people to use caution around food, toys or other items of high value to the dog," added Fortin. "Proactively setting boundaries with the child, like [not] touching [the dog] when he's eating or taking toys out of his mouth. Respecting those boundaries can generally set them up for success."
Parents must watch vigilantly for the signs that a new family pet is uncomfortable or fearful, says Fortin. "Those signs include growling, avoidance, like the animal choosing to keep its distance, or things that they're visually communicating like looking fearful. Most of the time the dog will give lots and lots of warning before it bites," she said. "Children should use proper behavior and not be too loud or too rough with the animal. There is a potential for an injury to occur, but that is not the norm."
"Kids often want to watch the dog eat, which is fine as long as they stay at an appropriate distance and respect the dog's boundaries," continued Lynch. "Just like you don't want a dog eating off your plate at the table, a dog doesn't want you trying to pull his food away from him."
There is a return on the significant investment that goes into animal adoption with benefits ranging from self-confidence to communications skills development. "Pet ownership teaches kids about responsibility if they are actively taking part in [caring for] the animal," said Lindsey. "It teaches them compassion. They learn to listen and pay attention to nonverbal cues because they don't speak the same language as the animal. Kids who grow up with animals in their homes are also more aware of animal welfare issues."