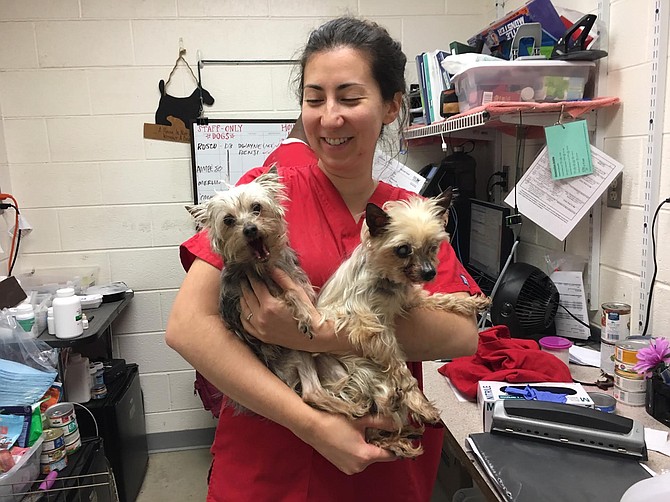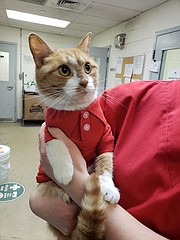 Walking through the halls of the Animal Welfare League of Alexandria (AWLA), a visitor might notice something a bit unexpected: Many of the offices are guarded by baby gates.
No, toddlers aren't afoot. The gates are keeping the shelter's "office animals" safe and secure.
At any given time, as many as 10 cats, dogs and other animals are receiving special attention as office mates of staff members. Some are cats too fearful for the activity of the adoption floor; others are dogs who need close monitoring as they undergo medical treatment. Longer-term office stays are assigned by managers, but some, says Animal Care Associate Elena Carver, "just come hang out with us because they need a little extra love that day."
Carver is one of about 10 Animal Care associates who take care of feeding and medications for the dozens of animals at the shelter every day, including the office foster animals. They also assist the staff veterinarian with administering basic vaccines and perform all "intake" medical exams. "Whoever brings an animal into the shelter hands him to someone like me," Carver said.
Dogs, cats, rabbits and other animals who may "shut down" in the shelter, refusing to eat or interact with people, often find their way into the Animal Care office. They've had a big, chunky pit bull who, in his exuberance, barreled around the office, even pushing over the baby gate. And they've been joined by a series of tiny dogs needing special attention. "I love old, small dogs who might be blind or deaf and feel lost in the kennel," Carver said. If they're frightened or trembling, she'll find a heating pad to warm them up. "I want them to know we're there for them."
Besides comforting the animals, the staff learns a lot about an animal by observing him or her so closely all day. Information gathered during office hours can be useful when providing potential adopters with information as well.
But the value extends beyond information collecting. "To me, it's so lonely without an office cat," said AWLA's Senior Manager of Community Programs Joanna Fortin, who's hosted about 30 cats over her past four years at the AWLA. "Of course, some of them can be a bit clingy, so I may have to plop one in my lap in order to type on the computer. I've had a few cats I would call office assistants.They 'helped' with typing or filing — for better or worse."
Fortin recalls a black-and-white cat named Domino who was a bit sassy with people and needed some extra space. Over several weeks in her office, where Domino had room to explore and a cat tree to climb, his attitude shifted, she said. When a couple who was looking to adopt a lively cat heard about Domino from the AWLA staff, they visited him in Fortin's office and quickly fell in love with him. "They saw his quirkiness and decided he was just the cat they were looking for," Fortin said. He went home the same day.
Staying in an office can be a relief for animals seized in neglect or abuse cases, says Krystal Yates, one of the AWLA's Animal Services officers responsible for enforcing city codes, educating the public about animal issues and responding to animal emergencies citywide. A variety of "case animals" have found a safe place in the Animal Services work area, dogs like Rico, a tiny Chihuahua who had been abandoned in front of the shelter.
When he was found, Rico was extremely underweight, and he needed extra TLC during the weeks when the officers attempted to find his owner and conduct a hearing to officially take custody of the dog.
"We don't know what Rico went through before we met him, but I think it really helped him to spend some time close to people, including the volunteers who walked him," Yates said. "But having animals like him around as we work really helps us, too. Everyone is calmer and more relaxed."
A 17-year-old calico cat called Cali is now the picture of relaxation. When she arrived at the shelter nearly a year ago she was suffering from the effects of diabetes and kidney disease. Recognizing the need for some special attention, a staff manager asked the administrative team to watch over her. She soon asserted herself as the group's office manager and demanded a bed on the desk of Administrative Specialist Audrey Alessi, where she could keep an eye on the whole crew, though she has tested the desks and chairs of every office staffer during her regular escapades. Diligent monitoring by the staff veterinarian has put her diabetes into remission, and Cali is now available for adoption.
A "resume" put together to provide potential adopters with more information describes Cali as "AWLA Office Catministrator" whose current duties include extensive napping (20 hours/day), desk redecoration and simplification, and "supervising a staff of 35 well-meaning non-cats."
Cali doesn't seem to mind being confined by a baby gate, though she sometimes tries to accompany staff members to meetings. "When we're all ready to go home at night, she gets more energetic," Alessi said. "She'll try to follow us down the hall. But when you say her name, she always comes right back."
The Animal Welfare League of Alexandria is a local 501(c)(3) organization. Operating the Vola Lawson Animal Shelter, which is Alexandria's only open-access animal shelter, the AWLA touches the lives of more than 6,000 animals every year, including strays, lost pets, local wildlife, rescued animals and animals surrendered by their owners. The AWLA is committed to addressing animal homelessness, promoting animal welfare and serving as an educational resource for the community. More information can be found at AlexandriaAnimals.org.