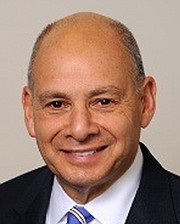 David Speck, former Alexandria City Councilman and member of the Virginia House of Delegates, has been appointed by Gov. Terry McAuliffe to serve in the McAuliffe administration as a board member of the Metropolitan Washington Airports Authority.
Speck recently retired from his position as managing director of investments for the Speck-Caudron Investment Group of Wells Fargo Advisors in Alexandria. With more than 35 years of experience in the financial services industry, Speck was twice named one of the top 400 financial advisors in the country by the Financial Times and one of the top 10 financial advisors in Virginia by Barron's Magazine.
Speck attended the University of Virginia and received his bachelor's, master's and doctoral degrees from The George Washington University, where he was also a member of the administration and faculty for 10 years. He is a graduate of the Securities Industry Institute program at the Wharton School and was a faculty member of that program from 1988 to 2001.
Currently, Speck serves as a director of the Alexandria Economic Development Partnership, ACT for Alexandria and the Northern Virginia Health Foundation. He also served as the regional chairman of the Sorensen Institute for Political Leadership at the University of Virginia.
In 2010, he was named a Living Legend of Alexandria and in 2013 was honored by the Alexandria Chamber of Commerce as Alexandria's Business Leader of the Year.
Speck previously served as a member of the MWAA board of directors from 2003-2010 as an appointee of Gov. Mark Warner. His current term will expire in November 2020.