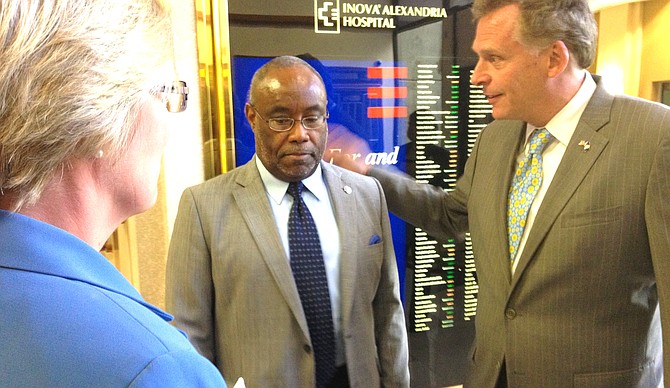 As the spring campaign season heats up, former Gov. Terry McAuliffe is about to receive endorsements from prominent Alexandria elected officials in the hotly contested Democratic primary for governor. A spokesman for McAuliffe tells the Gazette Packet the campaign will soon announce the following endorsements:
Commonwealth's Attorney Bryan Porter
Councilwoman Del Pepper
Councilman Canek Aguirre
Former Mayor Bill Euille
Former Mayor Allison Silberberg
Sheriff Dana Lawhorne
Clerk of Court Greg Parks
Former Councilman Willie Bailey
Former Councilman Tim Lovain
These current and former local officials join House Majority Leader Charniele Herring of Alexandria, who has a leadership position in the campaign as co-chair of Terry for Virginia. McAuliffe has already received the endorsement of Senate Majority Leader Dick Saslaw, Sen Adam Ebbin (D-30) and Sen. George Barker (D-39).
"I am so honored to have the support from these Alexandria leaders for my plans to create a more equitable Commonwealth," said McAuliffe in a written statement. "As governor, I will work with these leaders to take big, bold action to make unprecedented investments in our education and workers, and to tackle the inequities that have plagued communities of color in our commonwealth for far too long."
McAuliffe is seeking to return to the Executive Mansion next year, and he's facing four opponents in a hotly contested Democratic primary this June: Del. Jennifer Carroll Foy (D-2), Del. Lee Carter (D-50), Lt. Gov. Justin Fairfax and Sen. Jennifer McClellan (D-9).
The latest endorsements from McAuliffe illustrate a split among elected officials in Alexandria. The Carroll Foy campaign has the support of Councilwoman Amy Jackson and Councilman Mo Seifeldein. And the McClellan campaign has the support of Mayor Justin Wilson, Councilman John Taylor Chapman and School Board member Jacinta Green. Mayor Wilson was part of McClellan's initial campaign rollout last summer.
"Jenn is not flashy, and she quietly goes to work and achieves impressive policy results," said Wilson, who has known McClellan for 25 years. "This session is a great example. She was able to put on the scoreboard some very significant progressive policy reforms in a session when a lot of other things were going on."