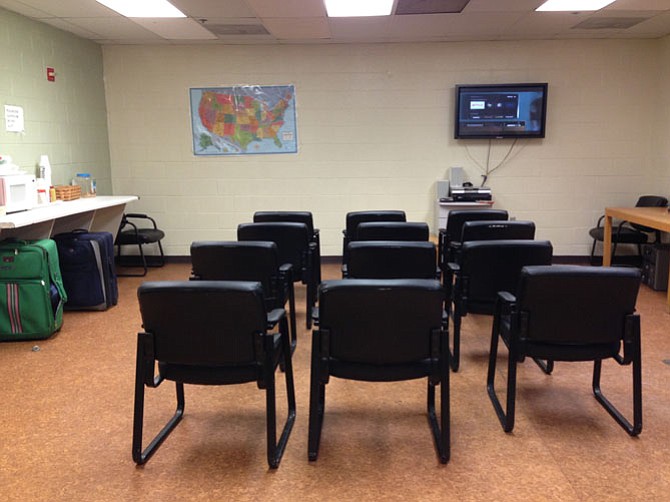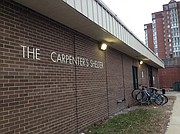 As temperatures have dropped, the City of Alexandria's Winter Shelter has kept its doors open to those who need warmth, food, and shelter.
"We get the homeless off of the streets for the most critical part of the evening," said Thornell Hancock, coordinator of the Winter Shelter. Guests receive a mat and two clean sheets to sleep on, as well as warm beverages, ramen noodles, oatmeal, and fruit cups.
However, freezing temperatures, wind chill, and precipitation extend this critical period.
The recent cold weather prompted the shelter to remain open from the evening of Thursday, Jan. 5, until noon of Tuesday, Jan. 10.
"It's all about keeping them safe and fed and warm." — Mary-Parker Lamm, Deputy Director, Carpenter's Shelter
The Winter Shelter operates through a contract with Carpenter's Shelter, a residential shelter housed in the same building. While volunteers serve meals year-round at Carpenter's Shelter, guests at the Winter Shelter have typically eaten at Christ House.
However, during their extended hours, the Winter Shelter has also served full meals to help keep guests out of the cold. "Our volunteer groups have brought in extra food," said Mary-Parker Lamm, deputy director of Carpenter's Shelter. This extra food has fed the guests of both residential and temporary shelters.
The shelter also coordinates with faith-based volunteers at Church of St. Clements and Alfred Street Baptist Church to provide more space during the winter. Each night, after screening for current substance use and mental health condition, a van transports 12 guests to these offsite locations.
"There's an average of about 32 people a night," said Hancock. On Sunday, Jan. 8, the shelter housed 38 single men and women during the night, with almost 25 continuing to stay indoors during the day. There have not been any families so far.

"People know about us through word of mouth," said Lamm. The shelter space also acts as a resource year-round. During the day, the space for the Winter Shelter serves as David's Place, a facility that meets the basic needs of over 230 unsheltered individuals a year. Such basic needs include showering, laundry, and phone and mail services.
"There is a very large overlap with guests of David's Place," said Shannon Steene, executive director of Carpenter's Shelter. "It's a known population to us ahead of time."
A network of individuals and city agencies is also notified each morning that the shelter is open, including the police department, social services, detox centers, jails, and the Community Services Board.

"Both the police department and the fire department bring people in," said Hancock. Unsheltered people from Arlington and Fairfax counties are also taken into the shelter. However, after a maximum stay of three nights, the shelter provides transportation back to their original jurisdiction.
"When it's warmer, people won't elect to come in," said Hancock, citing issues of mental illness and substance abuse, which often keep people on the streets. "It's the nature of the population we serve."
The shelter works with Projects for Assistance in Transition from Homelessness, detox facilities, and other outside resources to help those struggling with mental health and substance abuse.
"It's all about keeping them safe and fed and warm," said Lamm. Though there is a clinic at the shelter, as well as a medical team that volunteers once a week, the shelter has not had a hypothermia-related incident thus far.
"Here at Carpenter's Shelter, we see people with mental illness and substance abuse issues year round," said Steene. "It's just that when the climate is more severe, the consequences are more severe, and that's our concern."
Though the shelter is open every night from Dec. 1 to March 1, the shelter will continue to monitor forecasts in the case of inclement weather. The shelter can also open outside of its December to March season.
"In November and April, the shelter is weather-driven and not regularly open," said Lamm. "But we always err on the side of caution."
The 2016 Annual Point-In-Time Count, conducted by the Partnership to Prevent and End Homelessness in the City of Alexandria, discovered 224 persons experiencing homelessness. The 2016 Count marked a 16 percent decrease from 2015.
The annual count, required by the U.S. Department of Housing and Urban Development, provides an unduplicated, one-night record of persons experiencing homelessness in the city.
How can the community get involved? Hancock mentioned in-kind donations such as thermal underwear and hand and toe warmers.
While the shelter has an abundance of coats, hats and gloves, Lamm emphasized the importance of funds. "The shelter is here because of the city's financial donations," said Lamm. "This city is very generous to us. We can't thank them enough for how they support us."