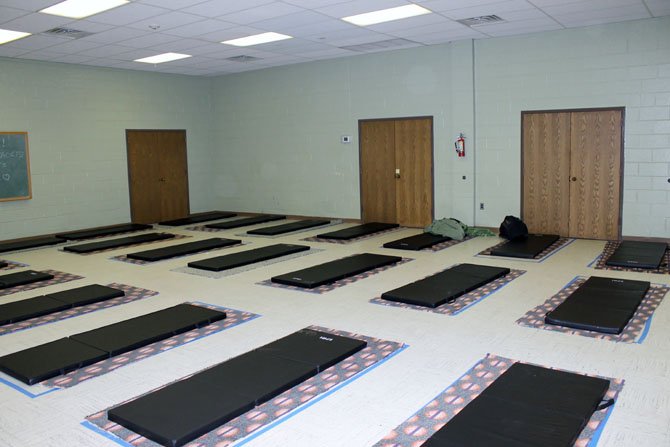 Temperatures in Fairfax County have reached record lows over the past week and FACETS is continuing to run its hypothermia prevention shelters this winter.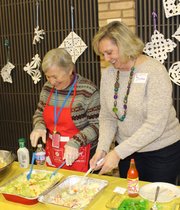 The shelters are hosted at churches throughout the area, and are intended to prevent hypothermia-related deaths, said Single Services Team Leader Abby Dunner.
FACETS worked with other organizations to ensure that nobody was left in the cold during the bone-chilling weather last week.
"Since the program started, in Fairfax County we have not had any hypothermia related deaths, so it is obviously a very effective program," Dunner said.
FACETS runs one of four hypothermia shelters in Fairfax County, and is the only organization that lacks its own shelter. The organization partners with local churches to host those in need. The FACETS shelter opens at 5:30 p.m. and guests must exit by 7 a.m.
"We are using completely donated space, so we are not able to stay during the day, but we try to make other arrangements, and they may go to drop in centers and things like that so they can stay out of the cold during the day," Dunner said.
ST. ANDREW'S EPISCOPAL CHURCH in Burke hosted one of the hypothermia shelters the week of Jan. 6, when the "Polar Vortex" came to Fairfax County.
Churches hosting a hypothermia shelter are required to provide shelter and food, but most go above and beyond, Dunner said.
"They provide entertainment, they provide services like gift cards, they upload smart trip cards so guests can get around, and they provide entertainment like choirs or bands. They really go out of their way to make this an enjoyable experience for guests," Dunner said.
Jewell Gould, a volunteer at St. Andrew's Episcopal Church in Burke, said that welcoming guests in extreme temperatures is a top priority.
"Hospitality and welcoming strangers is our core mission," Gould said.
Church volunteer Claire Palmer of Springfield said her whole family often comes to volunteer.
"I think God requires it of us to help others, especially those who are less fortunate," Palmer said.
Robinson High School Junior Giselle Clark is in charge of packing lunches for guests this year. Clark, who previously lived in Hawaii, where she recognized the need for low-income housing, personalizes each guest's bag to add some cheer to their day.
"I think it is important to help the homeless and serve the community," Clark said.
Guests sleep on thick mats on the floor, and are given two blankets each.
"It's not frivolous, it's not pretty," Dunner said. "It's one of those things that is the bare bones of what we are able to provide."
According to Dunner, capacity is an issue and Fairfax County has gotten involved in determining the appropriate number of people that can safely sleep in the churches.
Because FACETS has strong relationships with other services in the community, they are able to make accommodations for everyone in need of shelter.
"The whole purpose of the program is to make sure that people have a safe and warm place to sleep, and that nobody is on the streets when it's this cold. What that means is that regardless of capacity, we will find a place for them to go," Dunner said.
Although Dunner said that FACETS recognizes the importance of these shelters and they will always be needed, the organization is focusing on creating housing opportunities for low-income people in Fairfax County.
"As the program moves forward, we're really committed now to getting people into housing," Dunner said. "We're really committed to making sure that while sheltering people, we're also working towards finding more permanent solutions to end their homelessness."
FACETS is currently working on a Triumph II Housing program, designated for chronically homeless individuals.
"Chronic homelessness implies a certain length of time so actual definition is a year or more straight being homeless or four times in the last three years," Dunner said. "They have to have a disabling condition, so the length of time and the disabling condition implies chronic homelessness."
Dunner, however, said that more thought needs to be put into housing for all low-income individuals.
"The problem with Fairfax County is that we are such an expensive county. Our money doesn't go as far as it would go in less expensive areas," Dunner said.
According to Dunner, more low-income housing opportunities, such as the proposed residential studio units, would help FACETS clients in Fairfax County.
"These are affordable units that are safe for our folks to live, to be stable and to be productive members of society," Dunner said. "Housing right now is such a shortage that we're in a desperate situation."
Dunner finds the backlash the residential studio units proposal is receiving to be surprising.
"I think if other people took the time to really learn who would be occupying these units, they would have a different view-point about it," Dunner said. "Housing is the most important thing and yet it's the most difficult thing to connect people to."