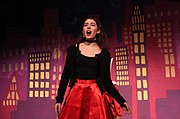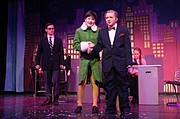 With a cast of 42 children, the Aldersgate Church Community Theater (ACCT) is staging "Elf, Jr.," based on the New Line Cinema hit, from Jan. 13 to Jan. 22.
The children's story revolves around Buddy, a young orphan, who crawls into Santa's bag of gifts and is transported to the North Pole. The would-be elf is raised, unaware that he is actually a human, until his enormous size and poor toy-making abilities cause him to face the truth. With Santa's permission, Buddy embarks on a journey to New York City to find his birth father and discover his true identity. Faced with the reality that his father is on the naughty list and that his half-brother doesn't believe in Santa, Buddy is determined to win over his new family and help New York remember the true meaning of Christmas.
Director Shelagh Roberts said ACCT is always looking for upbeat, family-friendly shows that are familiar to people, but are also fresh and new for a good portion of the local audience. "I really think the creative team of 'Elf, Jr.' did an excellent job both converting the movie into the Broadway show; and also converting the full-length Broadway show into a condensed Junior version without losing any essential elements," she said.
"The movie 'Elf, Jr.' is an iconic film for many families, and brings a smile to many people's faces. We were really excited to bring that story to life for a live audience, and the original music [from the Broadway show] really helps to convey the energy of New York City at Christmas time, and the sense of fun and adventure that Buddy feels as he sets off on his odyssey from the North Pole to a bustling city," she said.

She said Buddy's childlike innocence is such a contrast to the cynical New Yorkers he encounters — especially his father, Walter and Jovie — that it sets up opportunities for comedy. "Like so many of the most beloved stories, it's a story about transformation and what is possible," she said.

Co-producer Tracy Dunn said she loves the way community theater brings so many different types of people together. "It is such a unifying experience — you meet people you would never meet normally and you get exposed to great music and talent! It was a no brainer for me to say yes to Shelagh (Roberts) when she asked me to produce," she said.
She said the story of "Elf Jr." was about the importance of being good and believing in unconditional kindness and joy. "It is a true feel good. Everyone wants to believe," she said.

Grant Hamilton, age 13, plays the role of Buddy the Elf, a completely happy guy. "Any sadness he feels needs to come from the outside," he said. "The thing is, there are different types of happiness, and nailing down all of them is the hard part."
He said the challenge has been the singing. "My vocal range is not what you would expect from someone playing Buddy the Elf, so me and the music director have had to rework some of the singing parts," he said. "The funny thing is I'm usually not a good dancer, but the choreography to this production has come to me quite well."
He added: "If you don't walk out feeling entertained, then we didn't do it right. We may want to make you feel happy, or sad, or sympathetic or whatever, but that's all to serve the greater purpose of just giving the audience a good time."
Olivia Parker, age 17, plays the role of Jovie, who is a bit jaded. "She's been through some hard times and doubts herself. Over the course of the show she begins to open up, gain confidence, and like all the characters, learns the best way to spread Christmas cheer, is singing loud for all to hear," she said.
As far as audience takeaways, she said that the month of January can feel like a snowy slap in the face after the Christmas season. "Hopefully, this show will remind people that you can carry and spread that joy throughout the rest of the year," she said.
Joel Simpson, age 9, plays the role of Michael Hobbs, Buddy's half-brother. "Michael is 12 years old and is very excited about having a new brother. He doesn't want toys for Christmas, but wants more time with his family," he said.
He said the hardest thing about being in a stage production is that you don't get a lot of time with your own family. For audience takeaways, he hopes they will keep their hearts open to new people even if they're different. "Also, that Christmas is more than just gifts. And a lot of laughs!"
Emily Roddy, age 16, plays the role of Emily Hobbs, a devoted wife and mother who is "finding it continuously difficult to put up with her husband's lack of attention to his family because of his demanding job."

She said she found it challenging to develop her character as a working mom, who is trying to balance life with her son, and to try and keep her husband more involved. She said she hopes that the takeaway will be that, even in the most difficult situations, one should keep a positive attitude, rely on your family for strength and put your family first.
The Aldersgate Church Community Theater (ACCT) is staging "Elf, Jr." from Jan. 13 to Jan. 22. Tickets are $12. Show times are Fridays and Saturdays at 7:30 p.m.; Sunday at 2 p.m., and a show Monday, Jan. 16 at 2 p.m. The venue is located at 1301 Collingwood Road, Alexandria. Visit the website at http://acctonline.org.