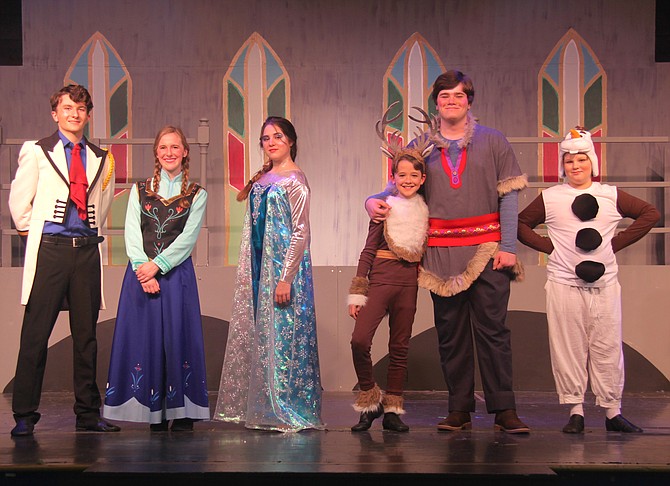 Aldersgate Church Community Theater (ACCT) is presenting Disney's "Frozen Jr." from Jan. 17-26, 2020. A story of true love and acceptance between sisters, the show expands upon the emotional relationship and journey between Princesses Anna and Elsa. When faced with danger, the two discover their hidden potential and the powerful bond of sisterhood. With a cast of beloved characters and loaded with magic, adventure, and plenty of humor, "Frozen Jr." is sure to thaw even the coldest heart.
Director Shelagh Roberts said she was immediately captivated by the characters, songs, plot and the overall look of the movie when it was released in 2013. "I remember sitting in the movie theater with my kids as it unfolded thinking, 'Wow, this is really something special.' Who didn't fall in love with Olaf, Sven, Elsa, Anna and Kristoff when they saw the film?" she said.
She added: "We were actively tracking the MTI (Musical Theater International) website and waiting for the junior version to be released. Once the new versions are released for licensing, it's a mad scramble to mount one of the early productions in your area. We felt certain that the families in our area would welcome the opportunity to see the musical adaptation of the film without heading to NYC to do so. And we couldn't wait to recreate the characters of 'Frozen' and bring them to life on our stage."
She continued: "We really want to bring audiences into the fictitious country of Arendelle and then keep them with us traveling to Elsa's ice palace in the far reaches of a Scandinavian style mountain wonderland. The biggest goal is to recreate the magic of the story and the characters and make the audience feel like they are really there with them in that environment."
"In terms of theme, the film connected so well with audiences because the most important depiction of love turns out to be familial love; specifically, sisterly love, rather than romantic love. The twist on the 'act of true love' that can save Elsa and Anna is not Prince Hans' kiss; it's Anna's sacrifice to save her sister's life by putting herself in harm's way," she said.
Producer Jen Saunders added: "Working with the ACCT team on last year's Jr. musical was a wonderful experience and I was happy to be a part of this team once again. I truly love watching young children learn and enjoy the process of creating a musical. The 'Frozen' movies are so popular and we knew the kids would love being able to tell this magical story to an enthusiastic audience."
She added: "I also love that this is a true community theater. We rely on the time and talents of parent and community volunteers. It's amazing to watch so many people, committed to the arts, come together to create this wonderful production. We could not do this without each of our amazing and dedicated volunteers!"
Mary Margaret Bargery is playing the role of Anna who exudes warmth and openness. "Her inexperience with the world makes her both exceedingly optimistic and somewhat naive. However, her emotional vulnerability and constant positivity breed a strength that bring out the best in others and stubbornly fights for what's right," she said.

She added: "Honestly, in working on this show I was most intimidated by playing such a well-known, iconic role. Character-wise and vocally I feel there is a lot to live up to. The storyline is lovely, and the music is so inspiring, and I simply long to do them justice."
Patricia Villarroel is playing the role of Elsa. "Elsa was born with magical powers that overwhelm her when she becomes afraid and harm others if not handled carefully. She was scared of hurting someone, especially her sister, Anna. As Elsa grows older, she became more distant and lonely before eventually learning to take control of, and become confident in, her powers."
Bill Barnes is playing the role of Hans who he says is a sad and terrifying look into the effects of sibling abuse. "It was difficult to find the emotional motivation of someone who doesn't seem to feel any emotion," he said, adding: "I hope that kids come away from it feeling like they should be kind to their siblings."
ACCT is presenting "Disney's Frozen Jr." from Jan. 17-26, 2020. Tickets: $15 for general; $12/group. Show times are Friday, Jan. 17 at 7:30 p.m.; Saturday, Jan. 18 at 2 p.m.; Sunday, Jan. 19 at 2 p.m.; Monday, Jan. 20 at 2 p.m.; Friday, Jan. 24 at 7:30 p.m.; Saturday, Jan. 25 at 2 p.m. and 7:30 p.m.; and Sunday, Jan. 26 at 2 p.m. ACCT is located at 1301 Collingwood Road, Alexandria. Visit the website: https://acctonline.org/