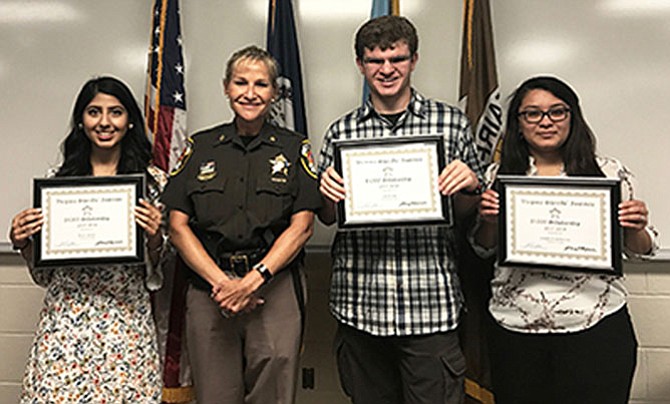 Fairfax County Sheriff Stacey A. Kincaid presented $1,000 scholarship checks on June 20, to three George Mason University students who are majoring in criminology. Following the ceremony, the students and their families had a two-hour Q&A session with Kincaid.
The scholarships are sponsored by the Virginia Sheriffs' Institute and reward students who are studying in the area of criminal justice at a Virginia college or university. The students must have a permanent residence in the jurisdiction of the sponsoring sheriff.
Scholarship applicants must include with their transcripts a personal essay and a letter of recommendation from their sheriff.
For 2017-2018 school year, the Virginia Sheriffs' Institute has awarded 78 scholarships across Virginia totaling $77,000. Full-time students were provided $1,000, and part-time students were provided $500.
Roya Ansary of Alexandria earned an associate degree from Northern Virginia Community College in 2016, graduating Summa Cum Laude, before transferring to George Mason University. She is now a rising senior majoring in Criminology, Law and Society with a minor in Intelligence Analysis. Her GPA is 4.0. She is active in GMU's Intelligence Community Club and the Afghan Student Union.
Ansary is committed to pursuing a career in counter-terrorism. "As a young Afghan-American, my drive to mitigate and prevent terrorism is much more deeply rooted than simply an interest in the field," she said. "My bi-cultural upbringing has provided me with a unique perspective of a deep gratitude for the opportunities provided in America that I would not have in Afghanistan, and an understanding of the pain and suffering back in Afghanistan. I hope to go into counterterrorism to prevent other nations from being as devastatingly affected by terrorism as Afghanistan has, and to bring about this good as a representative of the United States government."
Jenniffer Andino Cruz of Centreville is a rising sophomore at George Mason University, double majoring in Criminology, with a concentration in Criminal Justice, and Foreign Languages, with a concentration in Spanish. Her GPA is 3.8.
Cruz is active in many clubs and programs including ESOL Ambassador Program at Annandale High School; College Partnership Program at Centreville High School; Research Assistant for the Office of Student Scholarship, Creative Activities and Research (OSCAR); Alpha Lambda Delta Honor Society; Hispanic Student Association; Mariposas Mentoring Program; Catholic Campus Ministry; Intelligence Community Club; and The President's Student Leadership Seminar. She also works as a hostess at a local restaurant to help defray the cost of college.
Born and raised in El Salvador, Cruz experienced a great deal of violence and injustices. She says that while growing up, "I always wanted to be the one to make a difference, not just 'catch' the bad guys, but promote equity and self-advocacy to others. My mother obtained a law degree from El Salvador and for many years, I figured I could follow her footsteps and make a difference that way, but there was always something that just did not feel right. When I attended Centreville High School, I decided to take Criminal Justice and it was then when I realized I wanted to focus more on the criminal justice/ law enforcement field."
Jack Katz of Fall Church is a rising junior at George Mason University, majoring in Criminology. He is interested in a career in law enforcement. His GPA is 3.94. He is active in GMU's Cycling Club, Green Machine pep band (alto sax) and the Anime Club. Katz has interned with the Fairfax County Republican Committee and his member of Congress. He also volunteers with Brother's Brother Foundation and Stop Hunger Now.
Katz is majoring in criminology because "I want to help people and because I find the investigative side of law enforcement fascinating." He is considering a career as a sheriff's deputy or a local police officer to help keep the community safe.
For more information about the scholarship program, visit https://vasheriffsinstitute.org/scholarship-policies/. Applications for next year will be available in February 2018.
More like this story