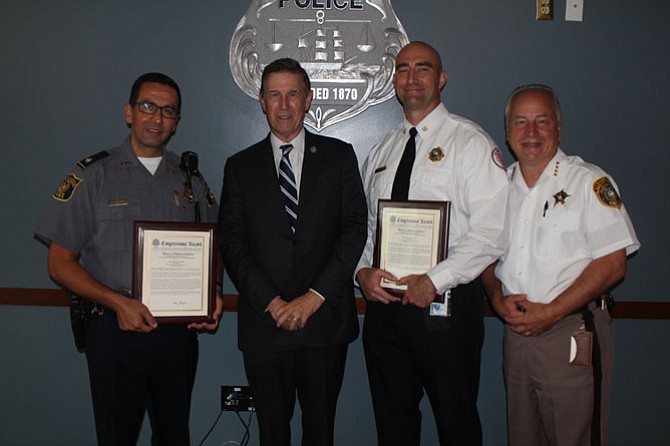 U.S. Rep. Don Beyer (D-8) commended first responders from the Alexandria Police Department and Fire Department on June 29 for their promptness and bravery when responding to the mass shooting that took place last month at the Republican congressional baseball practice. He presented the first responders with a framed copy of his Congressional Record Statement.
Alexandria Police Officers Nicole Battaglia, Alexander Jensen and Kevin Jobe arrived within minutes after the 911 call and immediately engaged the shooter. Members of the Alexandria Fire Department, Fiona Apple and Richard Krimmer and other paramedics provided emergency medical care to prevent the sustained injuries from becoming fatalities.
Beyer expressed his gratefulness on behalf of Congress.
"I am honored to commend these valiant individuals for their selfless service; I thank them not only for saving the lives of the victims of this evil, mindless gun violence, but for their daily positive impact on the extraordinary community of Del Ray in the exceptional City of Alexandria," said Beyer.
While honoring these first responders, Beyer acknowledged that without the timeliness of Alexandria's first responders, there could have been many lives loss at the June 14 shooting at Eugene Simpson Memorial Park while the Republican congressmen prepared for their annual congressional baseball game for charity.