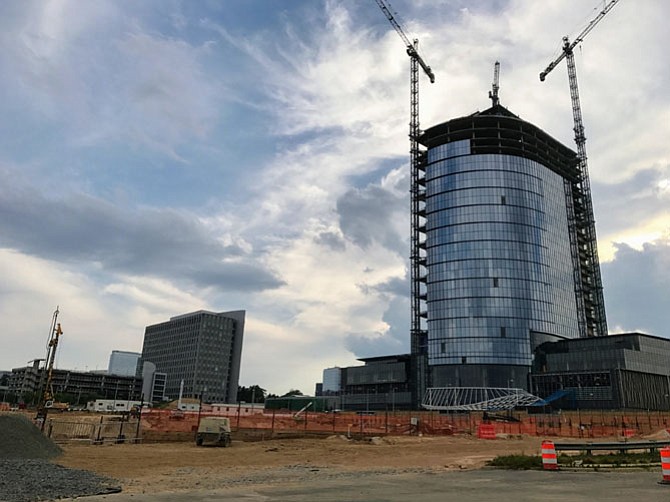 "Google the factors that make a city great. Culture and the arts will show up on every list." — Phillip Niedzielski-Eichner, Providence District Planning Commissioner
"Since in this new application some of the proposed parks are on rooftops and elevated podiums, particular attention must be paid to wayfinding and the design of public access points in order to facilitate public access." — McLean Citizens Association
Capital One's 24.56-acre proposal including more than five million square feet in development on the Capital One site at the intersection of Dolley Madison and Scotts Crossing Road in Tysons is scheduled to be addressed by the Board of Supervisors on July 11 at 4:30 p.m.
Last Thursday, June 2017, the Planning Commission recommended approval of modifications to the previously approved development plan. Proposed modifications will increase the total permitted square footage on the site from the approved 4,969,523 square feet to 5,212,722 square feet.
Part of the controversy surrounding the requested world-class corporate performing arts center concerns its trumping a promised community center and athletic fields.
"While concern has been expressed about a modest shortfall in the amount of dedicated open space and parkland, staff believes that the open parkland being provided for is sufficient and is of a quality to offset deficiencies in this area," said Providence District Planning Commissioner Phillip Niedzielski-Eichner.
The increase in density is "driven significantly" by the planned addition of a performing arts center, a "venue for world class entertainment," said Niedzielski-Eichner. In addition, a Wegmans will be a catalyst for residential and retail use.
"Google the factors that make a city great. Culture and the arts will show up on every list," the Providence District Planning Commissioner said.
McLean Citizens Association has been active in Capital One's proposals since before the Board originally approved a comprehensive plan in 2014.
The Comprehensive Plan Amendment for Tysons in 2017 "reaffirms the bargain struck in 2010 that in exchange for massive increases in density and intensity, developers will meet the commitment and requirements ... for public amenities and infrastructure," Sally Horn testified before the Planning Commission on June 21.
"Capital One previously had proffered to build and dedicate to Fairfax County a 30,000-square-foot Community Center to be constructed during the second phase of development that would include a 9,000-square-foot gymnasium, office space, multi-purpose room(s) and other amenities," according to MCA's resolution passed by its Board of Directors on June 12.
The proposed changes to its plan would shortfall promises Capital One made to the community regarding 0.23 acres of public parkland "less than was approved in 2014 for a lower amount of development."
"Since in this new application some of the proposed parks are on rooftops and elevated podiums, particular attention must be paid to wayfinding and the design of public access points in order to facilitate public access," according to the McLean Citizens Association.
The June 21 public hearing included comments from representatives from Wegmans, McLean's Chamber of Commerce, Northern Virginia Chamber of Commerce, the Arts Council of Fairfax County, dance and chorale companies.
See http://ldsnet.fairfaxcounty.gov/ldsnet/ZAPSMain.aspx?cde=CDPA&seq=4211746