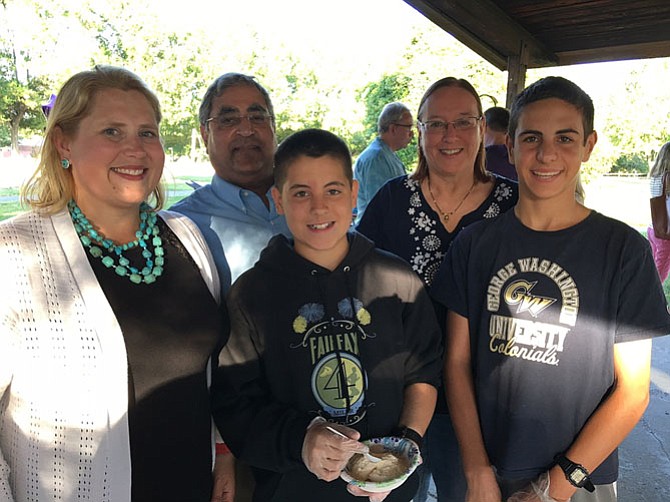 Fairfax — Jennifer Passey is running for Fairfax City Council and some 60 people came to her recent, meet-the-candidate, ice cream social in Van Dyck Park. Besides friends and residents, attendees included Mayor David Meyer, plus Council, School Board and Planning Commission members.
She's one of two candidates vying for the open Council seat to be filled by the Sept. 12 special election. It was formerly held by Meyer, who was elected mayor in February. Since then, Dan Drummond has served as councilman, but on a temporary basis.
Councilman Michael DeMarco formally introduced Passey to the crowd at her event. "Thanks for supporting Jennifer Passey in her run for City Council," he said. "She comes with a strong background in City activities – most notably, as a planning commissioner."
"She worked on several, important projects, including Scout on the Circle and Novus Gateway, and knows we have to get the right kind of balance for the City's economic growth and development," he continued. DeMarco also stressed her service on the Parks and Recreation Advisory Board, helping to create its strategic development plan. And, he added, "She's very smart and thoughtful and will come forward with a balanced approach and solution."
PASSEY, her husband and four sons moved to the City's Country Club Hills community seven years ago, and she chose Van Dyck Park for her campaign event on purpose. "This City and Van Dyck Park are places to come together with family and kids or by yourself," she said. "It's a place where things happen."
Noting that the Sherwood Community Center, Police Department and schools are all nearby, and Old Town is "just down the way," she said, "Van Dyck Park is a place of common ground, and that's the theme of my campaign."
"Our City has a legacy of solid leadership, and the open Council seat needs to be filled by someone with experience who brings a new perspective – different eyes to work for our community and to continue the forward momentum," said Passey. "Fairfax City is a place where people want to live, work and play; and, if elected, I want to focus on our economic development and civic engagement. Economic development is vital to the continued wellbeing of our City."
"We are at a pivotal time with a number of redevelopment projects on the horizon," she explained. "As a former planning commissioner, I understand the importance of having a plan in hand as we make important decisions on what will work for our community and what will not."
Furthermore, said Passey, "We have knowledgeable residents with ideas and experiences who need encouragement to lead – whether it's on one of our boards or commissions, as class instructors within our Parks and Recreation Department or leading activities in their neighborhoods. I want to continue to engage members of our community to get involved in our City and its activities to broaden our thinking."
IN CLOSING, she said, "This is a celebratory kickoff of the real conversations I want to have with you and the thousands of voters in these 6.3 square miles as I attend events, meetings and knock on doors over the coming months and weeks. In the end, my hope is that I earn your support and vote on Sept. 12. You all being here shows me that you, too, care for this City."
For more information, see www.jenniferforfairfax.com.