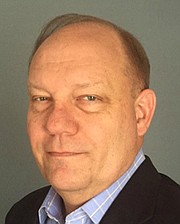 John Boylan has been hired as Dulles Regional Chamber of Commerce's president and CEO, effective June 1. He is the successor in this position to Eileen Curtis, who retired after 23 years of service leading the Dulles Chamber.
Boylam earned a BA from Fairfield University and a MA from California State University as well as a Fellowship at Tuft's Fletcher School of Law and Diplomacy. He retired from the U.S. Air Force after 20 years serving as a KC-135 navigator, as well as working in geospatial intelligence and political-military affairs.
He was an executive vice president of National Security Group and Federal Marketing Practice for Cassidy & Associates, a Greater Washington area lobbying firm. Of late, he has worked as principal of Bridget Partners developing strategy, marketing and business development for businesses in healthcare, defense, energy and infrastructure. He has also worked at Lockheed Martin in business development and as vice president of government relations with Riverside Research, a $100 million not-for-profit.
He and his wife Ellen have three adult children, all living in Centreville since 1993.
The Dulles Regional Chamber of Commerce has more than 800 business members.