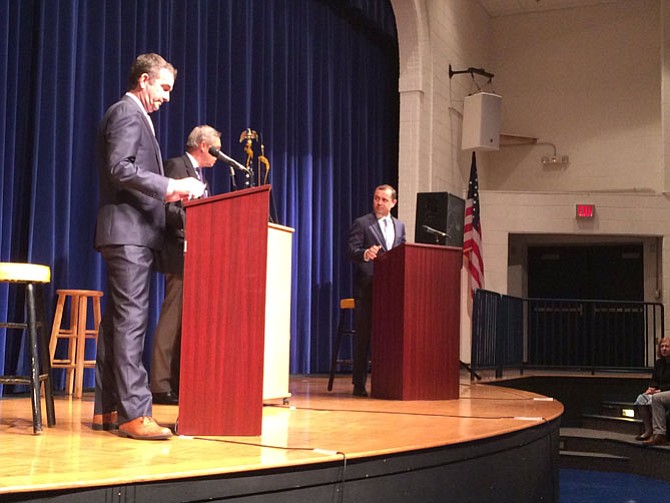 Ralph Northam
Age: 57
Currently: Virginia's 40th Lieutenant Governor; previously served in the Virginia Senate
Bachelor's Degree: Virginia Military Institute
Medical Degree: Eastern Virginia Medical School
Place of birth: Nassawadox, Va.
Profession: pediatric neurologist
Tom Perriello
Age: 42
Served one term in U.S. Congress, Va. 5th district
Bachelor's Degree: Yale University
Juris Doctorate: Yale Law School
Place of birth: Ivy, Va.
Profession: attorney
Top Northam Donors
• $200,000 from venture capitalist Michael Bills of Bluestem Asset Management LLC
• $110,000 from Henrico-based Common Good VA, a committee set up by Gov. Terry McAuliffe in March 2014 to raise political donations during his time as governor
• $77,000 from Thomas DePasquale of the software company Outtask LLC
• $52,500 from Conrad Hall, retired president and CEO of Norfolk-based Dominion Enterprises
• $50,000 from Washington-based DGA Action, a super PAC funded by Democratic Governor's Association
Top Perriello Donors
• $500,000 from Sonjia Smith, Charlottesville philanthropist
• $250,000 from George Soros of New York-based Soros Fund Management LLC
• $230,000 from the New York-based activist network Avaaz Foundation
• $125,000 from Alexander Soros, New York executive and philanthropist (son of George Soros)
• $75,000 from Courtney Smith, financial advisor with New York-based East Rock Capital
Regrets? Candidates for the Democratic nomination for governor have probably got a few. But Lt. Gov. Ralph Northam has too few to mention. During a debate on NBC4 late last month, Julie Carey asked the lieutenant governor what kind of mistakes he's made that he regrets during a recent televised debate, Northam did not talk about about his two votes for George W. Bush in 2000 and 2004. And he didn't talk about taking money from Dominion, the utility that wants to build controversial pipelines through the state.
"Well I tell you I don't really have any regrets, Julie," said Northam. "But what I did learn was when I started in Richmond in 2008 as a senator … "
And then Northam told a story about his efforts to get a smoking ban passed in Richmond after initial opposition from Republicans. One of the old verities of political life in Virginia is that if you're explaining, you're losing. And the lieutenant governor was not about to start explaining his support for Republicans. And he wasn't about to start explaining the $40,000 he's accepted from Dominion and its executives during his run for governor. So he changed the subject.
"Not sure that qualified as a mistake," responded Carey. "But let's try you Mr. Perriello on that."
That's when former U.S. Rep. Tom Perriello (D-5) talked about an issue that his critics have been focused on since the day he announced his candidacy earlier this year: a vote he made during his time in Congress to deny federal funding for abortions in taxpayer-subsidized health insurance plans under the Affordable Care Act. Supporters of Northam have been using Perriello's vote in favor of the Stupak-Pitts Amendment as a way highlight Northam's long history supporting women's reproductive rights.
"That amendment and the eventual compromise was highly restrictive, said Perriello during the NBC4 debate. "And in working with reproductive justice advocates since then understanding just how much of a step backwards it was in that space."
THAT EXCHANGE reveals a curious phenomenon in the race for the Democratic nomination this year. Both candidates are trying to run to the left, abandoning their previously moderate or even center-right positions on a number of issues. So which candidate has a more difficult transformation? Opinions are divided. Virginia Tech political science professor Robert Denton says Perriello will have a more challenging time selling voters on his new progressive persona.
"He has to explain that at the time I wasn't countering my beliefs, attitudes or values related to abortion," said Denton. "But I was looking at my constituents in the Fifth Congressional District and therefore trying to represent them."
Others aren't so sure. University of Mary Washington professor Stephen Farnsworth says Northam is in a more perilous position explaining his votes for Bush.
"The anger that you see among Democrats really I think is going to create a sense that the votes for Bush were more problematic," said Farnsworth. "Perriello may be better able to explain away the very conservative nature of his old congressional district."
Perhaps the more thorny issue for Northam is his position on the controversial pipelines Dominion wants to build in Virginia. Despite being asked multiple times on the campaign trail, the lieutenant governor has yet to take a stand one way or the other. Northam says the multibillion projects could create jobs and boost the economy.
"Obviously we want the pipeline to be built with science and transparency," Northam said during the first debate in April. "We also need jobs in the commonwealth of Virginia."
Perriello has made his opposition to pipelines a centerpiece of his campaign, and he's pledged to reject campaign contributions from the utility. Perriello says all that money Dominion plans to spend on the two pipelines in Virginia could be put to better use.
"I've opposed these two pipelines," he said during that first debate. "I believe for a fraction of that $6.7 billion, we could put tens of thousands more people to work on clean energy, energy efficiency, localizing food production and other measures."
THE DEBATE over guns has also been a sticking point in the Democratic primary. On the campaign trail, Northam has criticized Perriello for changing his position on the National Rifle Association, a group that once endorsed his campaign for Congress. During one of the televised debates this year, Northam turned to Perriello and reminded voters that he has received support from the NRA during a time when concerns were mounting over gun control in America.
"That was since 2010," said Northam. "You served in Congress from 2008 to 2010. That was after the Virginia Tech tragedy. What has changed about the National Rifle Association between 2010 and 2017?"
Perriello responded that times have changed.
"Well, you know, you and I have both have all done guns. You know that. You were a deciding vote after Virginia Tech on something that prevented Fairfax and other communities from being able to demand fingerprinting on concealed carry permits. That was a deciding vote. There was never a moment where I was a deciding vote for the NRA."
Both of the candidates support free community college for Virginia students, although they differ on how to finance it. Northam says no tax increase would be needed to finance his plan; students would engage in public service to pay for free community college in high-demand areas.
"If they become certified in one of these areas, then they will give one year back in public service at which time they will get paid," said Northam. "So it's not like they're out there working for free."
Perriello says a tax increase will be needed, especially for those making more than half a million dollars a year. He says that would allow people who attend free community college to have the dignity to come home at night and tuck their children into bed.
"We don't need people giving back in service," said Perriello. "We have a private sector with jobs ready to hire people if we help them just a little bit to get that certificate and have the dignity of the kind of job they can support a family with."