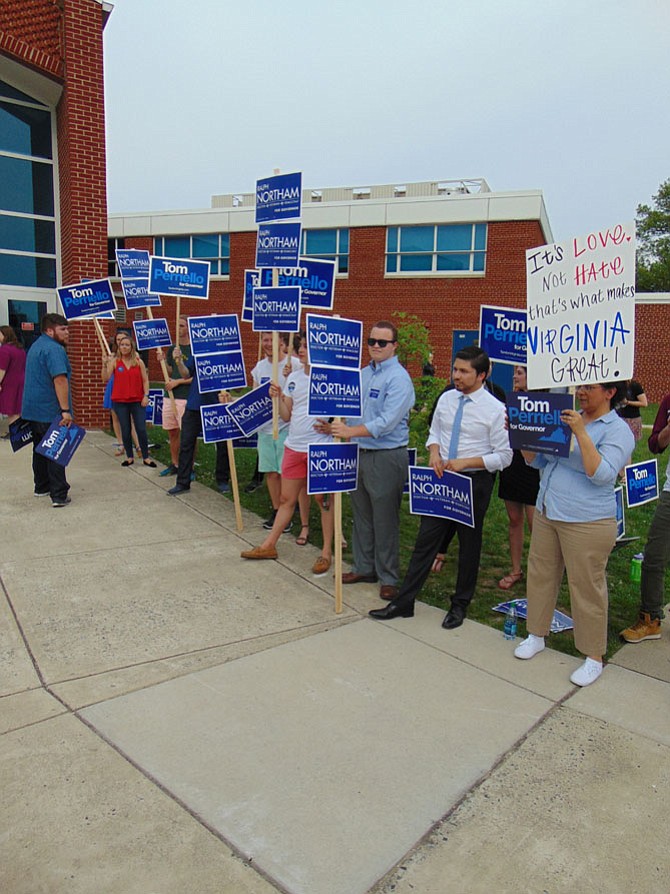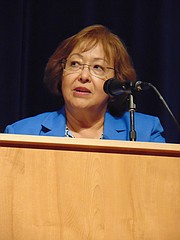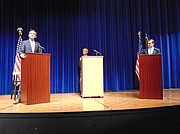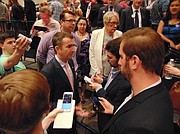 The two Democratic candidates for Governor of Virginia, Lt. Gov. Ralph Northam, 57, and Tom Perriello, 42, participated in their first of five gubernatorial debates across the Commonwealth, on Saturday, April 29, at Lanier Middle School in Fairfax. The debate, which filled the school auditorium to capacity, was sponsored by Fairfax Democrats and Emerge USA.
Moderated by Tom Sherwood of NBC-4 TV, the debate questions varied from gun ownership, to campaign money and ethics, to governing style and personalities, to the economy, and even the Redskins.
A pediatric neurologist by profession, Northam served as state senator from 2008-2013 and lieutenant governor since 2013. He grew up on the Eastern Shore, attended VMI and Eastern Virginia Medical School, and served eight years active duty in the U.S. Army.
Born and raised in Charlottesville, Perriello is a former teacher, nonprofit executive, diplomat and U.S. representative. He's worked fighting for peace in West Africa, as well as the Balkans, Darfur and Afghanistan. In 2008, he served Virginia's Fifth District in Congress, working on the House Transportation & Infrastructure Committee. He has a law degree from Yale.
On the question of whether this is a change election and are citizens satisfied, Northam, who has been in Richmond for 10 years now and attended 180 events around the state, said Virginians are looking for someone to stand up to the hatred and recklessness that are in Washington now. "I think Virginians are looking for someone who knows how to win," he said.
To that, Perriello said for the last 20 years, the median family income in the state has not changed: "We need a fighter who knows how to come in and win an election."
ON THE QUESTION of governing the state, which is limited to one term, Northam said he wants to be governor to give people the same opportunities that he had as a child. "I want to make sure that all of our children have access to a world-class education system," he said.
To that, Perriello added: "I've actually worked as a peace negotiator; I think we could use a little peace negotiating in Richmond. We were able to bring people together around clean energy in Southside Virginia. I believe when we show up and listen, we can find common ground."
On the question of creating jobs in Virginia, Northam said the minimum wage needs to rise to $15 an hour. "We know the jobs of the 21st century are in science, technology, and biotech; we've planted great seeds. We need to make sure higher education is affordable. The way we promote 21st century jobs is through workforce development," he said.
Perriello added: "The Virginia Republicans are part of anti-growth strategy. We have to fundamentally change how we've been thinking about economics."
On the topic of bringing the Redskins to Loudoun County, Perriello said: "We've seen a lot of stadium deals that leave taxpayers funding too much of the bill. We'd love to see [the Redskins] in Northern Virginia, but the devil's in the details .... We need to focus on development plans and infrastructure development."
Northam said he's always been a Redskins fan but he's not willing to spend taxpayer money to make that happen. Regarding the Redskins name, "The Bullets changed their name to the Wizards. The name 'Redskins' is offensive. I would encourage them to change the name, but ultimately that's a decisions the Washington Redskins will make," he said.
Regarding the skyrocketing cost of college education, Northam said a lot of doctors finish their residency with $300,000 in student debt. "We in Richmond underfund higher education; we can't keep that up. We need to make it a priority for higher education. We need to take care of Virginia."
Perriello added: "We need to move from a K-12 approach to a Pre-14 approach. We need to start with a universal Pre-K approach. We put out a tax reform proposal that includes universal Pre-K and trade school and community college. This isn't about handing things out to people; this is about what we need."
On the Metro rail system that lacks a dedicated revenue source, Northam said he used to live in Silver Spring and rode the Metro everywhere. "Metro is vitally important to the economy in Northern Virginia. We need to fix it .... It's going to take leadership; we need to stand up; we need to be at the table and we need to make sure the transportation system is paid for."
Perriello added: "We've got a 40 percent drop in ridership. This could put us in a spiral and that's very scary, which means we lose revenue. I think we need to look at this as a state-wide challenge. This is one of the greatest drivers of quality of life."
REGARDING GUN OWNERSHIP, Northam said: "I know all too well what assault weapons do to human beings … We need to bring people from both sides of the aisle to talk about responsible gun ownership."
Perriello added that it's important to veto terrible legislation that comes out of the state legislature. "I do believe we can build common ground in closing background checks. I think this will require continuing to reach out across the aisle."
Before the June 13 primary election, both candidates will also participate in forums in Arlington and Charlottesville, as well as additional debates in Roanoke, Richmond, Hampton Roads, and Loudoun County.