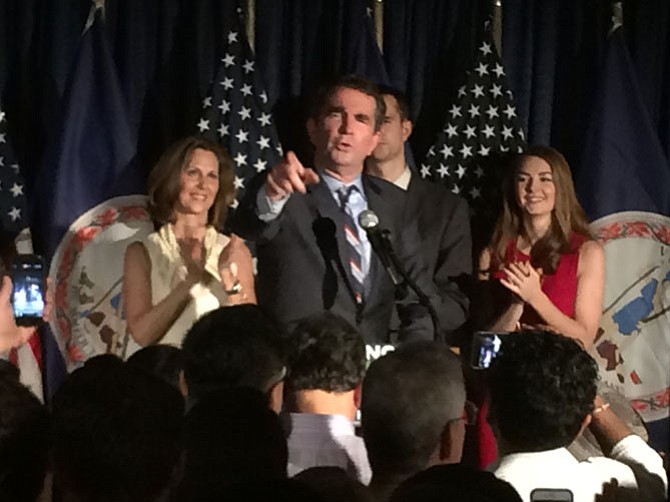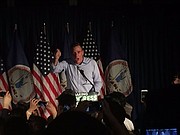 "Talk about a centrist Democrat, Ralph is exactly where our party should be. On social issues, he's where he should be. And on business issues he's where he should be." — Senate Minority Leader Dick Saslaw
Democratic Primary for Governor
• Ralph Northam: 300,000 votes, 56 percent
• Tom Perriello: 240,000 votes, 44 percent
Democratic Primary for Lieutenant Governor
• Justin Fairfax: 250,000 votes, 49 percent
• Susan Platt: 200,000 votes, 39 percent
• Gene Rossi: 60,000 votes, 12 percent
Slow and steady wins the day. That's the message Democrats sent this week at the polls, selecting two candidates who have essentially been running four-year campaigns for their ticket in November.
Lt. Gov. Ralph Northam has been planning a run for the Executive Mansion for years, lining up almost every elected official in the state before anyone else even thought about entering the race.
And Justin Fairfax, a former federal prosecutor, has been steadily planning a campaign for lieutenant governor since 2013, when he lost the Democratic primary for attorney general to Mark Herring. Now Northam and Fairfax are ready to barnstorm the state and take on the Republican ticket. Attorney General Mark Herring had no opposition in the Democratic primary.
"I'm a fighter," declared Northam at his victory party, which packed a sweltering Highline RxR in Crystal City. "I'm ready to lead the fight. Are you ready to join me? Let's get it done!"
Northam won a decisive victory, taking 56 percent of the vote. He swept Northern Virginia and Hampton Roads in addition to places like Winchester, Fredericksburg and Williamsburg. Former U.S. Rep. Tom Perriello secured 44 percent of the vote with a strong showing in college towns, including Charlottesville, Lynchburg, Harrisonburg and Blacksburg. But it was no match for the lieutenant governor, who spent more than $2.5 million flooding the airwaves with commercials portraying the lieutenant governor as a hard-working doctor who stood up to Big Tobacco to implement a smoking ban in restaurants.
"Talk about a centrist Democrat, Ralph is exactly where our party should be," said Senate Minority Leader Dick Saslaw, who represents Fairfax County. "On social issues, he's where he should be. And on business issues he's where he should be."
PERRIELLO'S CAMPAIGN tried to challenge Northam from the left, pushing a platform that would raise taxes on the wealthy to pay for free community college. On the campaign trail, he was critical of taking money from Dominion, the utility that wants to build two controversial pipelines through Virginia. Perriello opposed the pipelines, but Northam repeatedly dodged taking a position on the issue. Campaign finance records show Northam has received more than $100,000 from Dominion and its executives during his political career.
"We need to wean ourselves away from fossil fuels. We'll do that," said Northam as pipeline opponents conducted a raucous protest outside the victory party. "We'll continue to work with renewable energy. We've made great progress with solar and wind."
Northam supporters portrayed Perriello was an opportunist, someone who carved out a moderate record in Congress by voting against federal funding for abortions and receiving the endorsement of the National Rifle Association. His campaign for Congress was the polar opposite, moving all the way to the left and receiving support from U.S. Sen. Bernie Sanders and U.S. Sen. Elizabeth Warren. Many of Northam's supporters held deep suspicion about Perriello's dramatic shift across the political spectrum.
"I think his record in Congress did hurt him, especially with the women's health groups and the gun safety groups," said Del. Jennifer Boysko (D-86), one of the more liberal members of the House Democratic caucus who represents Herndon. "But also he hasn't really been active in Virginia until he showed up running for governor. I think that's probably what hurt him more than anything."
FAIRFAX spent more than $250,000 in a campaign against two opponents, a longtime political operative Susan Platt and a seasoned federal prosecutor Gene Rossi, who once mentored Fairfax at the federal courthouse in Alexandria. Since losing to Herring in 2013, Fairfax set out on a campaign to help raise money and support for candidates across the state, building up a steady stream of endorsements along the way. By the time his rivals announced their candidacies after Donald Trump won the White House, Fairfax had already lined up an overwhelming list of endorsements from elected officials across the state.
"In the last year, we've driven over 40,000 miles with our message of economic security and opportunity," said Fairfax in a written statement following his victory. "We've met thousands of passionate Virginians who agree with our message and want our future for Virginia."
The Democratic campaign for lieutenant governor struggled for attention, crowded out by the hotly contested race at the top of the ticket as well as the soap opera quality that dominated the Republican primary for lieutenant governor. On the campaign trail, the three candidates stuck to the issues and conducted a relatively issues-based debate about how to handle the opioid crisis and how to expand access to higher education in Virginia. All three of the Democratic candidates for lieutenant governor opposed Dominon's plans to build to pipelines in Virginia.
"We must unite as Democrats for victory in November," said Platt in a written statement conceding the race to Fairfax. "We cannot allow Virginia Republicans to roll back rights for women and spread Donald Trump's hateful and dangerous agenda across the commonwealth."