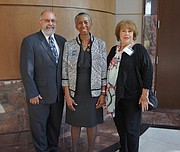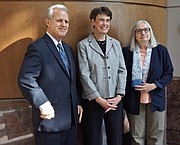 Every year since 1984, two individuals from each of the nine Fairfax County magisterial districts, as well as two from the at-large "domain" of Board of Supervisors Chairman Sharon Bulova are honored for their service to their communities or for particular acts of heroism. For their dedication, these community caretakers are named Lord and Lady Fairfax for the year.
The 2017 honorees were feted at a reception at the County Government Center on the morning of June 6. Following this gathering, the Lords and Ladies were escorted into the Board Auditorium where their accomplishments were publically acknowledged and each received a certificate declaring their status.
The Lords and Ladies will be making a few more appearances during their reigns, including at the signature celebration for Fairfax County's 275th anniversary, which will take place in the area surrounding the Historic Fairfax Courthouse in central Fairfax, on June 17. Just to add another "jewel in the crown" of this event which promises fun and festivities for the whole family, the real Lord and Lady Fairfax will be joining celebration all the way from Great Britain.
Nicholas Fairfax, 14th Lord Fairfax of Cameron, and Lady Annabella will help celebrate the founding of our county from when the area was part of lands owned by his ancestor, the 6th Lord Fairfax of Cameron.
In announcing the visit by Lord and Lady Fairfax (the originals), Chairman Bulova laughed that the noble guests seemed a bit confused by the fact that there were more peers in Virginia whom they would be meeting. "Only here in Fairfax," she told him. "We're special."
Introducing 2017 Lord and Lady Fairfax:
At-Large — Chairman Bulova
Lord Fairfax: John J. "Jeff" Lisanick is a former client at New Hope Housing's Eleanor U. Kennedy Shelter. Desiring to give back to the homeless community, he joined the Consumer Advisory Council (CAC) as an original member in 2012. Since being elected Chair of the CAC in 2013, he has been a member of the Governing Board with a goal of preventing and ending homelessness. Jeff took his passion to end homelessness to a new level in July 2015 when he was hired by New Hope Housing as the Residential Coordinator of the same shelter in which he was once a client. He now serves as the Coordinator of Residential Services, overseeing seven different sites.
Lady Fairfax: Jane Miscavage has been an incredible asset to both Fairfax County Public Schools and our community at large. In 2007, Jane began serving as a founder and manager of the Food Allergy Support Group of Northern Virginia, where she helped over 400 families access up-to-date allergy research and health care professionals. Her commitment to children and families continued through her service to #IamFCPS, a grassroots organization that advocated for a fully funded 2017 FCPS budget, and later, as the Vote Yes Meals Tax Campaign Manager. Currently, Jane Miscavage continues to serve our schools as Vice President of the Fairfax County Council of PTAs.
Hunter Mill District – Supv. Cathy Hudgins
Lord Fairfax: Jerry Poje is the current Hunter Mill appointee to the Human Services Council. He was previously the president of the board FACETS, and he is a founding board member of the Communities of Faith United for Housing. As a volunteer, he applies his professional expertise to help people in need through improved accessibility, accountability, and coordination in Fairfax County human services delivery. He has been recognized with the 2008 Fairfax County Human Rights Commission Award for efforts to prevent and end homelessness, and the 2010 Fairfax County Martha Pennino Award for Community Service. His career in scientific discovery called for the social and political centers act on those discoveries to protect public health.
Lady Fairfax: Therese Martin has committed years to public service and is an asset to Fairfax County. She has served Hunter Mill District for nine years as a Fairfax County Election Officer and represented the League of Women Voters on the Criminal Justice Advisory Board. Additionally, she has arranged and participated in multiple voter registration campaigns. Currently, she represents Supervisor Hudgins on the Barbara Varon Volunteer Award Selection Committee and the Hunter Mill Citizen Budget Advisory Committee. In addition to several Fairfax County bond referenda task forces, she was an alternate representative on the Fairfax Solid Waste Advisory Committee.
Providence District – Supv. Linda Smyth
Lady Fairfax: Since her retirement from newspaper work, Sue Kovach Shuman has applied her "can do" spirit, writing, and personal skills to volunteerism for the county. In addition to serving as the president of the Mantua Citizens' Association, Shuman is currently working on Fairfax County's Neighborhood History Community Project for the 275th anniversary, helping with "Providence Perspectives", an oral history project, and is on the board of the Friends of Accotink Creek. She also serves as community ambassador for the Agency on Aging and created the "Neighborhood Network," an aging-in-community initiative to support older residents.
Lord Fairfax: There are many reasons for Phil Niedzielski-Eichner's selection as Providence's Lord Fairfax. He was twice elected to the Fairfax County School Board and served one year as chairman. He was also a member of both the Park Authority Board and the Environmental Quality Advisory Council. Phil also chaired the Use of Force Subcommittee under the Ad Hoc Police Practices Review Commission. He remains involved with the Commission through the "Implementation Committee." Looking for another challenge, Phil volunteered to become Providence's representative on the Fairfax County Planning Commission.
Dranesville District – Supv. John Foust
Lord Fairfax: Gary Pan encourages adventure in the Fairfax County community as the Scoutmaster of Troop 55 of the Boy Scouts of America (BSA), the Advisor of BSA Coed Venture Crew 364, and the Director of the Wolf Trap First Time Campers Program Camp. He serves on the Board of Northern Virginia Technology Council (NVTC), the Great Falls Citizens Association, and as a member of the Rotary Club of Great Falls. Previously, Pan served on the Board of Directors of the Wolf Trap Foundation for the Performing Arts, the National Multiple Sclerosis Society, Junior Achievement of the National Capital Area, and the Entrepreneur Center at NVTC. He has received multiple awards for his dedication to community service.
Lady Fairfax: Sally Horn has served as President of HOAs in McLean and elsewhere, taking actions that have improved quality of life for Fairfax County citizens. As a Board member of the McLean Citizens Association and president, she greatly expanded MCA's outreach. She is a three-term member of the Tysons Transportation Service District Advisory Board, MCA liaison to the Tysons Partnership, the founder of a monthly adult speaker and discussion group at Temple Rodef Shalom, and organizer of the first-ever voter registration and information drive at the McLean Community Center. Because of her time and efforts, the McLean Chamber of Commerce awarded her with the Community Impact Award.