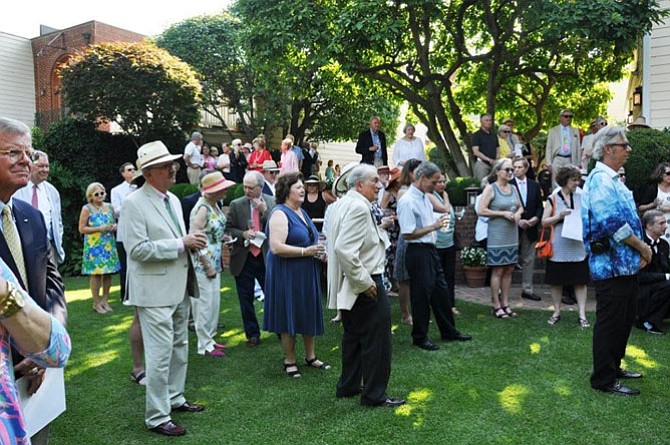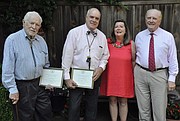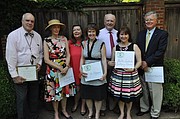 The Historic Alexandria Foundation (HAF) held its annual Garden Party on Sunday, June 11, announcing this year's Preservation Award winners and a series of financial awards made to sustain historic resources in the City of Alexandria.

Two individuals were selected for the Preservation Awards:
• Joseph Reeder for his financial contribution and commitment to working with the City of Alexandria in the acquisition of his former property at 517 Prince St., the Murray-Dick-Fawcett House, for historic preservation and open space purposes; and
• Elizabeth McCall for implementation of the preservation project recently executed at 1110 Price St.
Five local organizations were also awarded funding for historic preservation or restoration projects in the coming year, including:
• The Athenaeum, $5,000 to restore stucco on the south façade of the historic building at 201 Prince St.;
• The Del Ray Citizens Association, $4,800 for a survey of commercial buildings contributing to the Town of Potomac National Register Historic District;
• The Lee-Fendall House Museum, $5,000 for the restoration of historic window shutters;
• The Old Presbyterian Meeting House for stabilization of its 18th century burial ground;
• And the Stabler-Leadbeater Apothecary Museum, $5,000 for conservation of gilded lettering on two early interior windows.
In addition, the Office of Historic Alexandria (OHA) received a $100,000 pledge to be used as the first commitment to a planned endowment for the Murray-Dick-Fawcett House, one of Alexandria's earliest 18th century homes. Using grants and gifts from the Virginia Land Conservation Foundation, the Virginia Outdoors Foundation and Joseph Reeder, the City of Alexandria recently acquired this nationally significant historic property at no cost to city taxpayers, and it will administered by OHA as part of the city-owned-and-operated museum system.
OHA Director J. Lance Mallamo received a special award from HAF for his "Stellar Leadership of the Office of Historic Alexandria" over his past decade of service to the city's comprehensive public history agency.