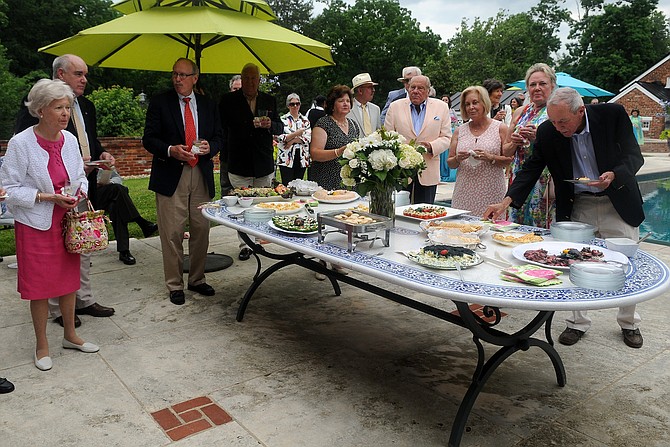 See more garden party photos on Facebook.
Harriet and Tom Lankford opened up the gardens and pool house at their home "Clarens" for members and guests of the Historic Alexandria Foundation (HAF) on Sunday afternoon, June 7. At the annual meeting, HAF president Dr. D. Morgan Delaney presented four grants, four historic plaques, the HAF Preservation Award and honored two Old Town homeowners.
The Athenaeum received $5,000 toward the rehabilitation of the painted stucco on the Athenaeum's Lee Street facade. Lee-Fendall House Museum received $12,000 to repair the water damage and wood deterioration of the front porch columns, railings and floor.
Old Presbyterian Meeting House was awarded $5,260 to restore the grave marker of Sarah Fairfax Carlyle (1730-1761). Stabler-Leadbeater Apothecary Museum was given $3,220 for the reproduction and installation of an appropriate ceiling medallion for the Apothecary Retail Shop.
Architect and historic preservation specialist C. Richard Bierce AIA was presented with the 2015 Historic Alexandria Preservation Award. Former Virginia state Sen. Patsy Ticer and Maria O'Leary were honored as 50-year owners of homes in Old Town with HAF plaques. Historic plaques were awarded to: James B. McWilson of 511 S. Fairfax St.; Lee and Janet Ness of 20 East Del Ray Avenue; the Alexandria Academy at 604 Wolfe St.; and Rev. Leonard M. Fest SSJ of St. Joseph's Roman Catholic Church at 711 N. Columbus Street.
HAF is celebrating the 50th Year of the plaque program. For more information, visit www.historicalexandriafoundation.org