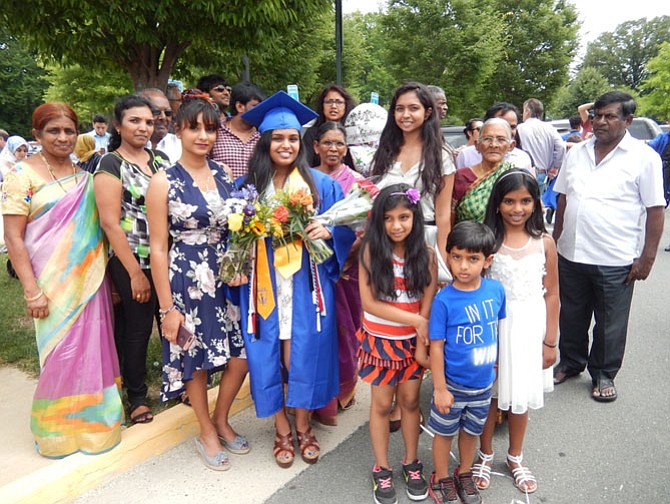 Fairfax — Fairfax High's graduation was last Thursday, June 15, in the school's field
house. But before the newly minted grads headed outside to begin the next chapter of their lives, they received some words of wisdom.
"It is such an awesome day," said Principal Dave Goldfarb. "On this one day, we honor four years of your work." Noting how their parents have been there for them on their "journey through life," he said so has the school staff. "We've supported you and have been your coaches, confidants, role models, mentors and more, and we are so proud of you," said Goldfarb.
"Grads, you sit here now with doors wide open to new adventures," he said. "You've learned the skills that will help you, including using your words." He then highlighted four words – 'or,' 'but,' 'and' and 'yet' – that can each change a sentence's meaning, depending on how they're used.
"Many people use 'or' to frame choices or reality for you," said Goldfarb. 'Or' can polarize situations, as in, 'You're either with us or against us.' But life is more multiple choice, so don't let 'or' imprison you; there are many shades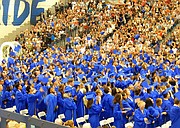 of gray. 'Or' can mean many options and different perspectives."
He said 'but' completely changes the direction or impact of a sentence. "It exudes negativity in the way you present ideas and throws shade on the entire message," explained Goldfarb. "But if 'but' is a villain in the world of speaking, 'and' is a hero. It connects phrases, maintains balance, keeps possibilities open and signals positive intent and alternate choices."
As for 'yet,' he said it has "transformative powers – the ability to preserve hope. So keep it handy and ready for use. Don't let anyone shut down your dreams and tell you what you can and can't do.'
"Class of 2017, when you feel like your possibilities are limited, your tomorrows will bring your opportunities and surprises that you can't see now," continued Goldfarb. "As you go forth, remember, communication is critical to your ability to move forward. You are the listeners and speakers of the future, and we wish you well."
This year's graduating class contained 86 honor grads – students with a 4.0 or higher GPA. And one of them, Ebenezer Sampong, gave the graduate address. "Seniors, look at yourself – where you were, where you are and where you will be," he said. "As we leave the path of childhood, remember to dream – not only at night, but during the day – of something beyond, something better, something higher.
"Out there is our future, our destiny, our fate," he continued. "Just beyond those doors is the real world; it's time for the birds to fly. And whatever you do, keep moving forward; and remember, you are not alone. We all have someone cheering us on."
Sampong then urged his classmates to "have the courage to act. We each have a talent, a skill, a worth, and no one can take that away from us." He thanked the parents, teachers and school staff for helping them all grow and thanked the Class of 2017 for its "kindness, brilliance and smiles." Now that they're graduating seniors, he said, "For this fleeting moment, we are giants."
Next, awards were presented to four noteworthy members of the Senior Class. Sydney Suarez received the Outstanding Senior Award; Charlie Flynn, Service Award; Emily Deivert, Faculty Award; and Eve Boggs, Fairfax Award. Then, after the diplomas were handed out and the seniors tossed their caps into the air in celebration, they headed out into the sunshine toward the rest of their lives.