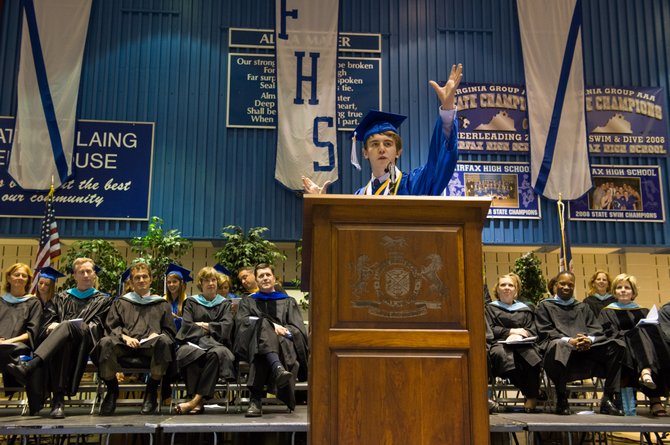 Photo Gallery
Fairfax High Graduation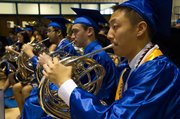 Click Photo for Flash
A packed basketball gym with threatening weather looming outside made for a dramatic start to the graduating Class of 2013's commencement ceremony at Fairfax High School Thursday, June 13.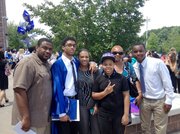 In keeping with tradition, seniors entered the gymnasium to Edward Elgar's "Pomp and Circumstance," played by Fairfax High School's own Band and Orchestra, led by band directors Alan Johnson and Matt Baker, and orchestra director Cindy Crumb.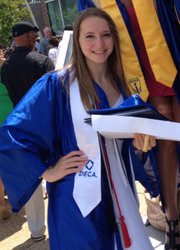 Fairfax High Chorus sang the national anthem, led by choral director Luke Frels. Principal David Goldfarb then greeted everyone present.
Goldfarb, addressing the students, said, "Your parents are your first teachers. Please stand and recognize them. And also to your teachers who have taken up the task of instructing you through life." He continued to say a few words about keeping a positive attitude in a world of adversity. "Persistent optimism," Goldfarb advised, "or what I like to call 'the winning attitude,' can be just as important as ability." The students applauded and senior Katherine Rossbach introduced the guest speaker, Kevin Simonds.
As a former faculty member of Fairfax High School, Simonds talked about his experiences in teaching. He also emphasized the perception of success, "Is it a resume or a state of mind? Recognize the limitations of your strengths and be awesome in them." The class gift to the faculty was several bricks that had the words "Once a Rebel, always a Rebel" presented by student Natalie Dillinger.
Mayor of Fairfax Scott Silverthorne and Fairfax School Board Chairman Janice Miller distributed senior awards. Jennifer Brazinsky won the Outstanding Senior Award and Fairfax Award. Meghan Green was presented with the Citizenship Award and Kelly Deasy won the Faculty Award.
Chosen by his peers, Alex Griffin gave an unconventional speech for a graduation setting. In a playful, comedic tone Griffin said, "We are all dumb but, we have plenty of time to figure out how to get those old smart people in retirement homes … " The speech ended and Principal Goldfarb then presented the class with their diplomas.
The class of 2013 left with a final thundering class chant: "We are '13!"
Seniors left the gym to a warm, clear sky.