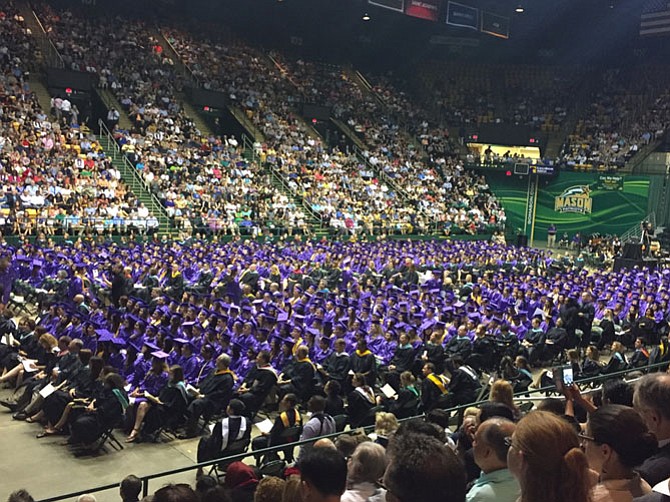 Burke — Dressed in all purple, Lake Braddock's class of 2017 said their final
goodbyes June 19. More than 700 graduates crossed the stage at Eaglebank Arena to receive their diplomas and start the next chapter of their lives.
Followed by the presentation of colors and the national anthem, principal David F. Thomas gave opening and special recognitions.
"This school has always had an extraordinary staff," said Thomas, who individually recognized retiring staff members.
Thomas proceeded to ask the entire teaching staff to stand up for an applause from the students and audience alike. In reference to the graduating seniors, he also recited Kennedy's quote, "ask not what your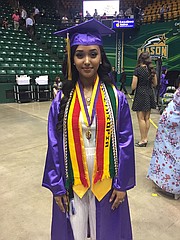 country can do for you—ask what you can do for your country."
In addition, 25 students from Lake Braddock's graduating class were recognized for choosing to serve the country after high school, eight of them receiving ROTC scholarships to their respected colleges.
Succeeding the opening remarks, "America the Beautiful" was performed by Lake Braddock's combined bands and senior class executive board members Hannah Kim and Shoshana Warshavsky gave a message of welcome.
Two separate acknowledgments were made by director of student services Alka Howard. First, she recognized two students in the class of 2017 from Italy and Norway. Second, she praised scholars who scored a 3 or higher on three or more AP exams, completed five or more AP courses and received over a final cumulative 4.0 GPA.
Afterwards, honor graduate Emily Warwick addressed her fellow senior class. She discussed life after high school as if it was an AP test. There would be decisions to make from here on and many answer choices to choose from.
"What do I want to accomplish in life?" Warwick posed the question to her peers.
She touched on Lake Braddock experiences, specifically mentioning the time #closefcps trended on Twitter worldwide.
Following Warwick, Academic Interventions Assistant Principal Brett Garner, addressed the graduating class as the ceremony's guest speaker.
Garner, a former Lake Braddock student and James Madison University alum, has been with the class of 2017 ever since they were in seventh grade. The class of 2017's first steps in Lake Braddock were Garner's first steps as well.
"Always show appreciation and gratitude," said Garner. He emphasized on the power of the people and how important it is to strive to help others. Garner ended his address with a poem he wrote, titled "Water's Edge."
Following the guest speaker, SGA Senior class president Delaney Crowe presented the class gift. The class of 2017 is leaving behind four boulders for each class to be able to paint.
The faculty award was given to Asa Ward, who was described as someone who stood his ground in the wake of bad decisions.
The last of the presentations ended with a special recognition of the senior class sponsors, Jennifer Celko and Kayla Shane. With that the awarding of diplomas began and each student crossed the stage when their name was called.
Thomas gave the declaration of graduation and Lake Braddock's class of 2017 was officially done with high school.