Alexandria — Nicole Battaglia was under fire. When she arrived in her cruiser at the Simpson Park baseball field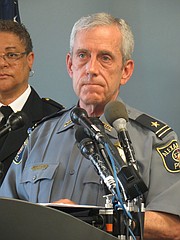 last week, Battaglia immediately faced a hail of gunfire from a shooter who'd just opened fire on a congressman and several staffers. Instead of running, Battaglia moved out from her cover towards the shooter. She was quickly pinned down by gunfire, but according to Alexandria Police Chief Michael Brown her quick actions likely diverted the shooter's attention and allowed the other police officers to shoot him and end the firefight.
In the wake of last week's tragedy, the leadership of Alexandria's public safety services came together on June 19 to highlight the actions taken by local police officers and paramedics. Brown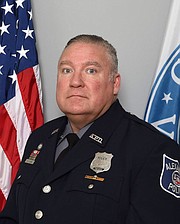 was still unable to provide answers to many of the questions that were asked over a week ago, saying it would risk the investigation currently being headed by the FBI.
Along with Battaglia, Brown also highlighted the actions of Officers Alexander Jensen and Kevin Jobe, who were two of the first Alexandria police officers to arrive at the scene of the shooting. Four minutes after the first phone call was placed to the Alexandria police, the shooter was neutralized.
"I could not be more proud of the officers that showed up that day," said Brown, also recognizing those who arrived after the gunfight to canvass the neighborhood, treat the injured, and locate witnesses. Brown made special note of Alexandria firefighters who were within earshot of the shooting and responded before they were called in by dispatch. "They displayed unusual bravery and could very well have saved the lives of two victims through their quick action."
Chief Robert Dube confirmed that several firefighters at nearby stations could hear the gunshots from the field and responded even before the first 911 calls came in. Patients were loaded into helicopters or into transport units to be taken to local hospitals.
For the officers involved with the shooting, Brown said each of them are on paid administrative leave until the investigation is concluded.
"They're doing fine," said Brown. "They're good officers."
Sheriff Dana Lawhorne noted that Del Ray had seen its share of tragedy over the last few years, but that it would bounce back; it had to.
"We want people to remember Simpson Park the way it's always been remembered, as a place where people have fun and kids play baseball," said Brown, adding a final message to those preparing to play at the reopened park: "Play ball."