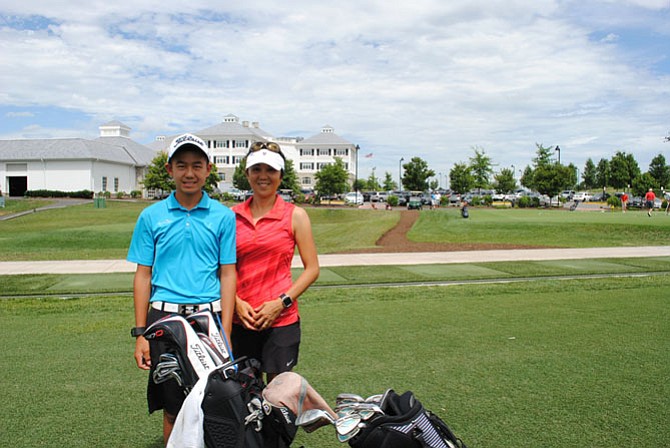 Great Falls — Great Falls teenager, Kelly Chinn, won the Hurricane Junior Golf Tour College
Prep Series at University of Virginia. The competition was hosted by the Hurricane Junior Golf Tour on Saturday, June 3, through Sunday, June 4.
Chinn posted a 76 on Saturday and 71 on Sunday, equaling a 147 total. The 14-year-old Great Falls resident competed in the boys 14-15 division.
A recent graduate from Cooper Middle School, Chinn will be attending Langley High School in the fall of 2017 and has been playing golf for eight years and competing for seven. He has won 64 tournaments out of the 146 junior golf tournaments that he has played.
One of his recent accomplishments was winning first place in the 2017 Army Navy Country Club Men's Club Championships, on his home course. The tournament included all ages. Chinn was the youngest club champion in a 93-year club history.
The young player's best 9 hole score is 31 (-5), best 18 hole score is 66 (-6) and best 36 hole score is 136 (-6). He is ranked 42nd in the Junior Gold Scoreboard National ranking, as of June 22, 2017, class of 2021.
The Hurricane Junior Golf Tour is the largest junior golf tour in the country. It hosts 275 events in 32 states a year, including Virginia, California and Texas. Founded in 2007, it gives both male and female golfers, between the ages of 8 to 18, the opportunity to compete and play on remarkable courses throughout the United States. There are six divisions in total, boys under 10, boys 11-13, boys 14-15, boys 16-18, girls under 13 and girls 14-18. The junior tour is based out of Jacksonville, Fla.
"It was a tournament I really wanted to win. It was a lot of fun and a great dream to win. It showed me that I can bounce back from a poor round. I can really fight through those tough times," Chinn said.
This year has been his first year in the Hurricane Junior Golf Tour. Chinn and his parents, Eiko and Colin, just recently moved back to the area from Hawaii. The whole family enjoys the sport and play as a family activity.
"He played really well. The love for the game that he has is really great to see. It has kept him going," Chinn's mother, Eiko Chinn, said.
Chinn said he hopes to play golf in college and one day compete in the PGA tour.