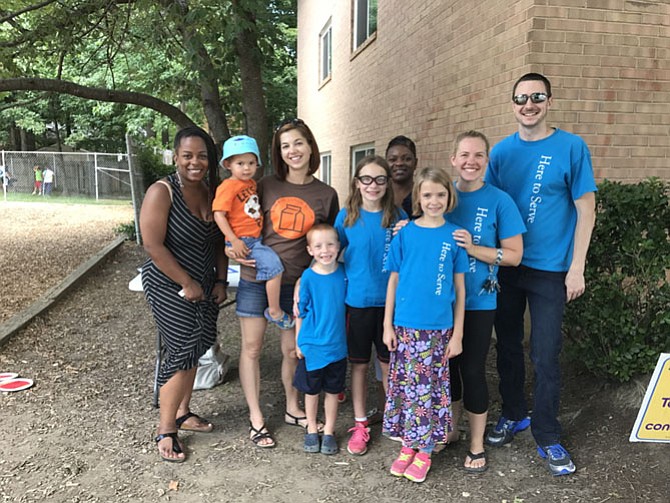 Summer Lunch Bunch begins its first term this year as a newly established initiative that aims to positively impact and cater to the food needs of FCPS students out of school for the summer.
Started by Chad Simpkins, Associate Pastor at The Journey Church in Springfield, Summer Lunch Bunch brings meals to children Monday through Friday at 11:30 a.m. to 1:15 p.m.. The program began Monday, June 26 and will end Friday, Aug. 25 and has the potential to feed approximately 600 children.
The program brings prepackaged meals made by Fairfax County Food and Nutrition Services (FCFNS), children's books, and "fun buckets" to three apartment complex sites in Springfield: Chelsea Square, Springfield Gardens and Springfield Square. The "fun buckets" contains games and toys such as jump ropes, coloring books, and playground balls.
The aim of Summer Lunch Bunch extends a lot farther than simply passing out meals said Kathleen Ambroso, a member at The Journey Church and volunteer for Summer Lunch Bunch.
"One of the things I like about this is we're not just handing out meals and walking away, but we're also trying to play with the kids and develop relationships with the people here," Ambroso said.
"We live in what people consider a very wealthy area, so these little pockets of neighborhoods where people are struggling kind of go overlooked. Bringing attention to it and being able to partner with our church so that more of the congregation can come out and discover that a couple blocks away from where they live is a community that really needs some help [is important]."
SUMMER LUNCH BUNCH comprises volunteers who sign up and attend a training session in order to pass out meals at different sites.
Children were notified about the program through their school district as emails and letters sent out to parents and families.
The three sites were chosen based on advice by social workers and administrators in FCPS.
"We live in a very educated, very rich county but something few people know is 30 percent of people are food insecure," said Simpkins.
Food insecurity describes the condition of uncertainty from not being able to have or provide nourishing food — which is a harsh reality for some families living in Fairfax County. Summer Lunch Bunch plans to address the issue by helping to close that gap through transporting packaged lunch meals directly to children living in affected areas.
Summer Lunch Bunch is sponsored by eight different organizations which include: The Journey Church, Richard Byrd Library, United States Department for Agriculture (USDA), FCFNS, Virginia Department of Health and Second Story.
Prior to living in Springfield, Simpkins lived in Chapel Hill, North Carolina as a pastor for seven years — which helped in inspiring the establishment of Summer Lunch Bunch. In Chapel Hill, No Kid Hungry established itself in 2011. The program is dedicated to making children and families proactive about food and nutrition and meet hunger needs by similarly giving meals to out-of-school children during the summer.
Once Simpkins moved back to Virginia, he wanted to carry on the initiative into Fairfax County and began to pull the ropes together to get the program rolling.
"Research shows when people eat meals and read books their chances of success increase dramatically," Simpkins said.
"The plan is to start small and make this something bigger in Fairfax County. Our hope is that people get attached to the organization and adopt us. That would be a huge win because it leads to growth."
So far, the program has made an impact on its community at the Springfield Gardens apartment complex.
"Yesterday we gave out every meal we had," Ambroso said. "I think [it was] about 85 meals."