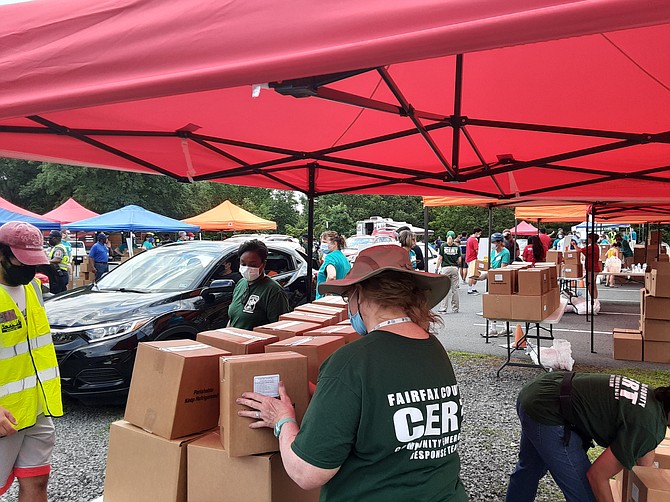 The Journey Church in eastern Springfield was the site of Supervisor Rodney Lusk's (D-Lee) "Drive Thru Food Distribution," on Thursday, June 25,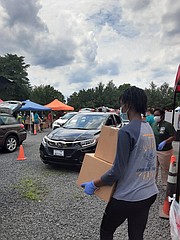 and one look at the traffic backed up on Franconia Road was a sign that residents in this part of Fairfax County were feeling the strain of the coronavirus pandemic.
"We're serving food to at least 1200 families a week," Lusk said, noting that the church was a good setting for this event. "They've been a great partner," Lusk added.
Normally in the summer, the church embarks on a meals program called the "Summer Lunch Bunch," but with the quarantines, job losses and income sources disappearing, the effort took on a new push.
"I would say the virus is a big part of it, jobs and all," said Chad Simpkins, a pastor at Journey Church.
The word about the food distribution event was pushed out to central Springfield in the 22150 zip code, which Lusk said was the hardest hit in Fairfax County, particularly the Hispanic and minority populations in that part of the county. This was the sixth food distribution event his office has taken part in. Three were in the South County area, and they've served 7,500 families.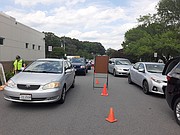 The event was made possible by the U.S. Department of Agriculture's Coronavirus Farm Assistance Program to reduce food insecurity during COVID-19. Locally, USDA worked with DeLune Corporation to make the effort possible. De Lune is an agricultural shipping company located in Springfield.
The day of the event started out with a special session in the morning aimed at stocking up the area's non-profits, and about one-third of the food was given to various local organizations. "Their resources were also stretched tight," said Kathleen Ambroso who was there with the church. "So many people are out of work," she added. Local area food pantries continue to face up to an 800 percent increase in demand for food, Lusk's office reported. Ambroso did say that another event was possible sometime later in the summer, but they need to work with USDA to make it happen.